Title: Demon's Embrace

Series: Erotic Apocalypse #1
Author: Bryce Calderwood
Genre: Erotica, PNE, Monster Erotica, Futa
Pages: 134
Heat Level: 4 out of 4 flames
Overall: 4.5 out of 5 stars
Reviewed by Naughty Book Snitch: Mindy
See Mindy's Goodreads Review Here
World War II is over and New York City is crawling with sexy futanari she-demons. Sex-crazed Demon hunter Veronica Hudson has her hands (and mouth, and everything else) full as she catches her prey through seduction. In this historical paranormal tale of erotica, Veronica goes through one smoking hot sex-soaked encounter after another! But she may have more than she can handle when she goes after a powerful demoness who's packing a little something extra. Okay, maybe not so little!

Holy SHIT! That was nasty, filthy, demented, panty wetting, deliciousness. Now, what in the ever loving fuck does that say about me, because I fucking loved it! This isn't Charmed or Buffy the Vampire Slayer hunting on rainbow colored streets with glitter guns. Nope. If Nariko from Heavenly Sword, Sarah Connor from Terminator, Jenna Jameson (adult film star) and Hell Boy all had a baby together, that baby would be Veronica Hudson.
I feel like I've been saying this more and more lately, but this book is NOT for everyone. This book has a lot of kinky fuckery in it that a lot of people may not like. Copious amounts of cum and blood… did I mention cum? Think about anime porn covered in cum and blood and then triple the cum… and that may be under estimating it.
"I want you to put that huge monster cock in me and fuck me stupid with it."
I'm not your average bear. I'm a little strange and unusual anyway so this was right up my perverted ally. I'm pretty sure I've had some dreams similar to this before.
Ok, so let's get into the story a little bit. The storyline is fantastic and very interesting. Veronica Hudson is the best demon hunter there is. She hunts down futanari sex crazed she-demons and sends them back to Hell before they can wreck havoc on the world as we know it. Now that Veronica is hunting alone, she develops a different style of hunting demons.
"I decided to hunt demons my way, Darlene. It's decidedly more… satisfying."
Veronica is super badass. She has an arsenal of weapons, guns and swords. She has some mad fighting skills and uses this new fighting style to the fullest advantage.
"Nobody follows me, nobody else goes upstairs. This is work for bad bitches." I gave my right breast a squeeze and winked at them like a pinup girl, then waved as I walked to the elevator bank. I don't know what gets into me sometimes. Oh, wait, yes I do: It's called not giving a shit.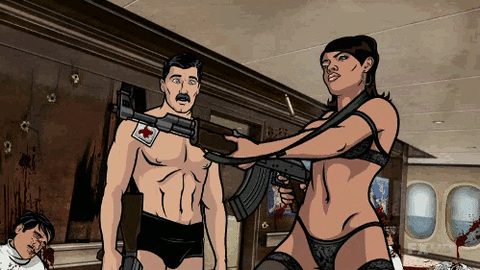 I have to mention some of my favorite scenes. One word… confession. Some of my favorites revolve around the church. I'm not going to go into detail about it, but I love that shit! I really like the way Veronica 'deals' with the church. I love the confession, I love the money, I love the sinfulness, I love the demons monster cock and its umm, usefulness. I especially love the extra person in the confessional. I just love all of it. There are a couple of those scenes and I love everything about them.
"Miss Hudson, you are more of a monster than they are. May God have mercy on your soul." I didn't stop, just flipped him the bird without looking back.
There were a couple of funny moments, but I'm not entirely sure they were meant to be funny. Some of the dialogue and actions hit my funny bone though and it totally worked for me.
I remembered I no longer wore pants so I spread my legs for her and smacked my open pussy a couple times. It made such loud, wet slapping sounds in the hotel's hallway, I laughed. "Come and get it, hellspawn!"
What I didn't like…. I hate the word shithole. Just saying. It's used here a few times and that is really the main reason why I personally can't give it 5 stars. With that being said, someone else might love that word and 5 star the fuck out of this. But not me. It's not sexy to me and just pulls me out of the moment like a slap to the face.
Overall, I loved it and I can't wait to read more. This book has a great foundation for a story and could very easily be turned into a porn that I would most definitely watch… over and over again. I loved Veronica and her demented sex drive. All of the demons that Veronica fought got harder and um… ahem… bigger 😉 I loved all the action, fights and sex. It was just all around really good! The only thing I didn't care for was that one word… shithole. Otherwise, BRAVO!! 
I received a copy of this book via the author in exchange for an honest review.


Amazon US ★ Amazon UK ★ Amazon AU ★ Amazon CA


Bryce Calderwood writes erotic stories that take you places you never thought you would go. Places of raw badassery, insatiable desire, uncontrollable lust. You may feel reluctant, at first, but you'll be enjoying it too much to really fight it, and then, before you know it, you won't believe what you just read.

Stalk the Author
Website | Twitter | Amazon | Smashwords