Title: Sweet Ruin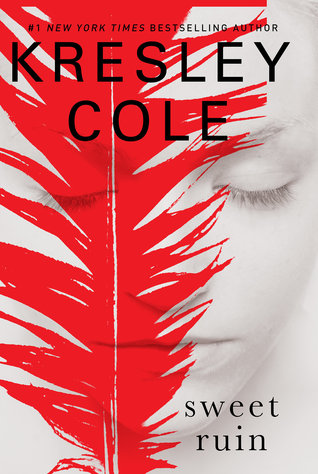 Series: Immortals After Dark #16
Author: Kresley Cole
Genre: Paranormal Romance
Pages: 384
Heat Level: 3 out 4 flames
Overall Star Rating: 3.5 out of 5 stars
Reviewed by Kay the Snitch Bitch
An immortal assassin is caught between desire and duty…

A foundling raised in a world of humans

Growing up, orphaned Josephine didn't know who or what she was—just that she was "bad," an outcast with strange powers. Her baby brother Thaddeus was as perfect as she was flawed; protecting him became her entire life. The day he was taken away began Jo's transition from angry girl… to would-be superhero… to enchanting, ruthless villain.

A lethally sensual enforcer on a mission

A threat to the Møriør has brought archer Rune the Baneblood to the mortal realm to slay the oldest living Valkyrie. Whether by bow or in bed, he never fails to eliminate his target. Yet before he can strike, he encounters a vampiric creature whose beauty conceals a black heart. With one bite, she pierces him with aching pleasure, taking his forbidden blood – and jeopardizing the secrets of his brethren.

A boundless passion that will lead to sweet ruin…

Could this exquisite female be a spy sent by the very Valkyrie he hunts? Rune knows he must not trust Josephine, yet he's unable to turn her away. Despite his millennia of sexual conquests, he can't ignore the unfamiliar longing she arouses deep within him. When Jo betrays the identity of the one man she will die to protect, she and Rune become locked in a treacherous battle of wills that pits ultimate loyalty against unbridled lust. 

If you follow my reviews, you know I have a separate rating system for Cole. She always starts with a five star review. 1 star because it's Kresley Cole, 1 star because I love the series, 1 star because she makes me belly laugh with her humor, 1 star because she's a genius with her story telling and 1 star for hot sex scenes.
Rune is a dark fae. This means while he's very powerful, he is also poison. He can't kiss anyone and they can't take his blood. The demon in him also means that while he can have sex, he can't ejaculate until he finds his mate. Rune is a member of a group of all powerful beings from different Lore species that seem like the governing body of the Lore. Kinda of peace keepers but not really. He uses sex with Nymphs of all kinds to gain whatever info is needed for whatever his current mission is.
Josephine is a bit of a mystery. She's a half female vampire/half phantom. She is young and has had no one to teach her the ways of what she should do. She was orphaned with her baby brother and they lived on the street until a kindly librarian kind of took care of them. Josephine loves her baby brother with everything she is. She even loves him enough to let him go after her untimely "death".
She and Rune stumble upon one another and sparks fly. Rune is convinced because of his mixed species he will never have a mate. Josephine wants nothing more than a family and to be loved. These were good characters but I never fully connected with them as a couple. Cole's last couple books have thrown characters that I either didn't know or didn't care about at me. I again realize that Cole is building her story arc here but I still don't like it. I don't know whether it's because of the length of the series or my starting to fall out of love with paranormal romance that I feel this way. I have loved her characters for so long but her newest ones have left me wanting. I know that if she gives us Nix or Furie's stories, the series will probably end but I want them anyway!
I got a little of Val Hall and Nix but not enough of the other Valkyries. I so badly want to live in Val Hall! So, in closing, 1 star for Cole, 1 star for her humor, 1 star for my love of the series and a half a star for the sex. I had to wait too long for it and despite my liking the characters, I don't care about them. Give us what we want. If you can't give us Nix or Furie, how about more Macrieve boys or the Alpha of werewolves from this story. Nobody does wolf shifters like Cole.
Book given in exchange for an honest review via the publisher and NetGalley.