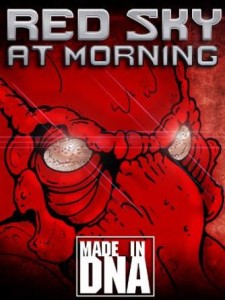 Title: Red Sky at Morning
Series: no
Author: Made in DNA
Genre: An original dystopian Cyberthulhu (cyberpunk Cthulhu) short.
Pages: 28
Heat Level: 4 out of 4 radioactive flames but no sex 
Overall Star Rating: 5 out of 5 stars
Reviewed by Naughty BookSnitch MJ
e-DustJacket Blurb:
An outsider investigates the horrific murders of children in the F-storm scoured wastelands of northeastern Japan. Shunned by the local police officials, he must use his wits and a little bit of faith to fight an evil older than humanity itself.
An original dystopian Cyberthulhu (cyberpunk Cthulhu) short.
"Gripping fantastical cyber noir. Fast-paced and smart, greased lightning poetry, it reminded me a bit of my father at times. Damn, one hell of a vivid writer!" –Trent Zelazny, author of Fractal Despondency.
"For a short story to blend cyberpunk, crime thriller, the Cthulhu Mythos, and Buddhism, set it all in futuristic Japan, and stage the climactic scene in a mystical virtual reality, is just plain ballsy. To pull it off is just plain brilliant. Made in DNA has a new fan." — Jeffrey Thomas, author of Monstrocity.

A Japanese Dystopia with Monks and Demons
Everything seems like some kind of punk these days, right? We now have steampunk, cyberpunk, deiselpunk, decopunk, atompunk, so why not sexpunk? Unfortunately, this story doesn't have any explicit sex but that doesn't mean it doesn't reek of sensuality and also contain an incredible plot. Red Sky at Morning is part of the whole "sexpunk/sex-fi" catalog written by Made in DNA. The Made in DNA cadre of books is filled with cyborgs, far flung planets, and culturally rich detailed depictions of current and ancient cultures. Brent Millis is the mind behind Made in DNA. He hails from somewhere in Midwestern USA but parks his rear in an office chair in Japan as part of the multinational, outlier, expat, Jim Thompson-esque, corporate machine. With a family in Japan and a keen eye for minutiae, he has put together a haunting story. 
Although it's not erotica this tale is a red hot concept, literally. It is set in Japan after a nuclear meltdown. F-Storms are a regular occurrence. Impending doom is commonplace. The protagonists (one hard-boiled male detective and one sultry, younger female) must survive radiation storms, a child killer, and a demon attack through a security breach of the cyborg software integrated into every detective's headgear. Like I said, it is really cool stuff that illuminates the sad fact that cosmic forces care as much for humans as humans do toward an insect. One way or another, these characters face imminent destruction. The main detective risk exposure in Japan's scorched wastelands to try and apprehend a child murderer. He immediately has to deal with Japanese rural police hierarchies that are simply ridiculous and would make most Westerners want to cut the bullshit and yank someone's hair off. Even though things are fraying into pieces, our protagonist is an outsider and must be ultra-careful not to step on the toes of the decrepit ranks and seniority that these local agencies take very seriously. Once he finally gets through the evils of bureaucracy, he finds a much more dangerous evil: a demon in Buddhist Monastery.
Ah, an such uplifting story!
Fuck uplifting! I want to read stories that are brutal, elemental, and powerful. This story is raw, deep, and steeped in the cultural mythos of the Cthulhu—a (probably)-dormant, super-powerful alien/demon who can destroy humans in the blink of a slimy green eye. In Red Sky at Morning, the demon has penetrated an old Buddhist temple, and the body of one of the temple's monks, and is behind the children-killing. Worse, it can attack the protagonist both physically and virtually to his body and through his cyborg security suit. Here, I need to bite my tongue or I'll spoil the fun. I'd love to wax poetic on how this story kicks demon ass, but I don't want to ruin the novelette with any spoilers. 
The story is well researched, which is a regular occurrence with this author, and smells like Japan although the English is crisp and cooked to perfection. What really got through to me, probably because of my years living in Asia, was how the hierarchy was expertly portrayed as an impediment to progress as the two detectives were forced to play their pre-assigned roles when bending the rules a bit would have helped avoid certain annihilation. This Asian-only quandary was written well and one of the key cogs of the plot. Read this short novelette/story and see for yourself.


Made in DNA is an American short story and novella author.
Set on gritty, furious, far-flung extra-solar planets, where racy, hardcore sex with aliens, cyborgs, robots and similar agents is as central to its nature as the technology, his work is described as "sexpunk" and "sex-fi". It is an unadulterated, unapologetic and self-indulgent fare reminiscent of work by Masamune Shirow, or featured in Heavy Metal magazine, Penthouse Comix and 2000AD.
Originally from Midwestern US, he currently lives in Japan with his wife and three young children.