Interview with Author Setta Jay Saturday April 26, 2014
Interview done by Mindy Naughty Book Snitch
Author: Setta Jay
Interview Event: "Setta Jay Day"
Date: 4/26/14
Time: 10am – 12am (CST)
Where: Facebook Online Only
Works: The Guardians of the Realms series
Hidden Ecstasy #0.5
Ecstasy Unbound #1
Ecstasy Claimed #2

Welcome Setta Jay and thank you for taking the time to spend with our fellow readers, reviewers and fans here at Naughty Book Snitch. I've recently had the pleasure of reading your erotic paranormal romance series, The Guardians of the Realms, and I very much loved each book. I'm excited about your newest book Ecstasy Claimed, which was released on March 28, 2014.
How would you describe The Guardians of the Realms series to someone who hasn't read them yet?
I guess I'd describe it as an action packed series where hot, dominant alpha males and powerful heroines defend the world's Realms from corrupt Demi-Gods. All the while they succumb to a hot and charged mating frenzy. It's a big Erotic Paranormal Romance series meant for an adult audience that like their naughty. LOL
What genre do you consider your books?
I write Erotic Paranormal Romance. I was in a writing workshop last year where Tiffany Reisz and Roni Loren explained that the difference between Erotic Romance and Erotica is that in Erotica sex drives the plot.
I know you love to read and you've mentioned before, "the dirtier the better". Who are your favorite authors and what are some of your favorite books?
It's really hard to answer with just a few and I'll probably miss some. I will read pretty much anything Historical and think it's great even if it's not super dirty. Lol That's probably because my first favorite author was Judith McNaught. I LOVE her and still have the tattered books from when I was a teenager. I really wish she still wrote… As far as some others that I reread, I'd have to say Maya Banks, Sweet Temptation; Patton's Way by Jenny Penn; Lora Leigh's Breeds or really anything that she writes; Charlene Teglia; Lorilei James; Cherise Sinclair; I also read a lot of sexy, but not kinky paranormal authors; Larissa Ione, Nalini Singh, Laura Wright, Thea Harrison, Cynthia Eden to name a very small few. Oh and I love Laurell K. Hamilton's Merideth Gentry series.
Who and/or what has inspired your writing style?
I'd say Judith McNaught with her strong, intelligent, yet completely feminine heroines. My world building was inspired in part by Gena Showalter's early Lords of the Underworld Series. Lora Leigh and Maya Banks influenced my love of writing erotic scenes with a bit of kink.
What made you decide to get into writing erotic romance and have you always been interested in writing?
I've always been infatuated with the idea of writing. There were always stories running in my mind. I didn't seriously start to consider writing a novel until about six or seven years ago. At the time I thought it would be a personal goal that would likely be shelved. I started writing a young adult novel, just to write and hated it. Lol. There came a time when I finally decided, with the encouragement of my husband, that at thirty something years old I shouldn't be so concerned about what my family might think and just write what I want, what I love.
I want to know, as I'm sure everyone else does… How do you come up with some of these sex scenes? Don't hold back, we want to know all the dirty details.
I have a wonderful husband that is more than willing to sacrifice his body in the name of research. LOL Add that to a very vivid imagination and I'm set. Working in a paranormal world makes it fun. I can let my imagination take me anywhere. It's one of my favorite things to write.
Are you currently reading anything? What is it?
I was feeling like a historical so I just started Taken by the Duke by Jess Michaels. I have stacks of books and tons on my reader so it's always hard to pick the next book. I always put up what I'm currently reading on Goodreads and anyone is welcome to send a friend request or follow me there 🙂 Setta Jay Goodreads profile
Two Part question:
1) When can we expect to see the next installment of The Guardians of the Realms? Can you tell us what Guardian it will be?
2) Your short story "Hidden Ecstasy" is about Vane and Brianne. Can you tell us if these two will get full length novels? Will they get their HEA?
I'm shooting for the end of June, but it could be as late as July for the next book. It's Dorian & Rain's story and Dorian is being a pain. LOL I'm currently writing it and it's starting to get really interesting. As far as Vane and Brianne, you'll be seeing them again soon.
I'm a cover whore so I'm interested to know who designed your covers? Do you have any input on the design? Do you know who the models are and do you get to meet them?
My husband does my covers with stock images we purchase. I help because I'm apparently very picky. LOL I have a thing for simple headless covers, partially because it's difficult to find a face to match my mental images.
Kresley Cole and Gena Showalter are good friends. Do you have any writer friends that you consult with for inspirations and ideas while you're writing?
Not to hash out story lines, but I have some author friends I met through Romance Writers of America.
I went to my first book convention last year, Romantic Times Booklovers Convention 2013, and got to meet some amazing people and authors. Are you planning on going to any book conventions in 2014 or 2015?
I really want to but I haven't set anything in stone yet for this year. The last two years I've gone to the Romance Writers of America Conventions and loved them, but they're geared more for writers and aspiring authors with only a Literacy Signing that's open to the public.
In Ecstasy Unbound there is a rape scene that is oddly erotic and leaves me with conflicting emotions on how I feel about it as a reader. My body is saying yes but my mind is saying no. How difficult is it to write a scene like that?
It was difficult, but it just came out and I felt it needed to be written. It had a purpose in my mind. My editor commented on it, and when I explained my thoughts she felt it was a good idea to leave it in. The crazy part about having it in there is that I actually have a really difficult time reading rape scenes myself.
Mindy Naughty Book Snitch Response -> That is such a controversial subject. Of course rape is bad and in real life its extremely tragic and horrible. Nobody wishes that on anyone. With that being said… I think your scene is written very well and that's why (I think) the reader has conflicting emotions. This is a fantasy fiction and different from my own reality. This is not real world and exactly why I love to read. Just wanted to get that out.
I've read in some other reviews that your series, The Guardians of the Realms, might be compared to J.R. Wards Black Dagger Brotherhood, in relation to the epicness of your paranormal angle and story. How do you feel about this? Would you agree or disagree?
It feels odd and humbling just having my name associated with such a huge author… I do understand where they were coming from. My world is big and different. Those reviewers were giving well known comparisons to recommend the series to those that might enjoy it. I can see guiding a fan of JR Ward's Black Dagger Brotherhood in my direction. She has big alpha males, a brotherhood and a big world. I can see where someone that likes her might enjoy my books, even if they are a bit naughtier.
Were there any challenges while writing The Guardians of the Realms? Specifically in regards to research since the background of the Guardians is based in Mythology?
The challenges were more in the actual way writing happens for me. I am a lover of spreadsheets, so I had a ton written out and planned. The research I did on mythology was a kind of a loose glimpse. I didn't want to get sucked in to what was done. I looked at it and changed it to fit my own ideas of the world, only keeping a grain of the actual myth. It was when I started writing Ecstasy Unbound that it all got complicated. I'd heard other authors explain the craziness of the writing experience and didn't believe it could be so out of control. It really was true. The story had a mind of its own and morphed with each draft. I can't explain it. A lot of what was in those early spreadsheets never came about.
Do you have any favorite music that inspires you while you write? Or Favorite movies?
I tend to write to classic rock. I can't seem to focus when listening to new music, but for some reason the classic rock channel on T.V. just kind of fades into the background. Considering Ozzy Osborne background music probably indicates I have mental issues. Lol.
Do you feel that any of your characters mimic yourself or friends and family in terms of personality? While you're writing do you feel as if you are that character? Do you cry when they cry and laugh when they laugh?
I really don't feel like they are anyone but themselves. My heroines are all someone I wish I was like.  I do get into character when writing, and yep I've totally cracked myself up. Especially in one particular scene with Alyssa and Gregoire. I could see the look on his face so clearly in my mind that I belly laughed my way through writing a very sexy scene. It was really weird. Lol.
Since you are self publishing your books, what are the difficulties and what are the rewards?
My first Romance Writers of America Conference in 2012 was the turning point from spreadsheets to serious writing. At that point, I decided that self-publishing was for me. I've never even written a query letter. It's a lot of work to self-publish, but having creative freedom and control over my own stories is well worth the work. There's a lot of learning, everything from formatting a manuscript, figuring out covers and finding a way through social media. On that note, I'm so thankful for book bloggers. Lol. Without their guidance and support, I'd get lost in a sea of authors out there. On the writing side, I'm fortunate to have a friend that is brutally honest when going through my drafts. Someone that knows me… She tells me what she thinks is or isn't working from a reader's point of view so that I can make changes that fit me, what my story wants to be, and something that others will hopefully enjoy. In the end it's still my creation. I'm incredibly lucky.
Tell us a little bit about your family. What does your husband think about your writing? Does he read your books? Do you have brothers and/or sisters or any other family that have inspired and you?
My aunt was a huge inspiration. She made up children's stories for my brother, sister and I when we were growing up and read them to us at family events. A few years back she actually rewrote them from her notes and had them bound for all three of us. As for my husband, he is amazing, he's not a big reader but he listens to my ramblings and supports me like crazy. We made a vacation out of the last writing conference in July. After that week he said he thought I should quit my job and focus on writing full time. At the time I was still doing revisions on Ecstasy Unbound. 🙂 I quit in October and have been working non-stop ever since.
Additional Note From Setta: I thought of something funny in regards to the question on whether my family was supportive of my genre. My dad is a big bear of a man and is also really supportive, although he probably doesn't grasp the scope of the naughtiness I write. LOL My hubs and I were at dinner with my parents and few months ago and my dad asked if I wrote on my computer because he saw mention of a program that allows you to speak and it would write the words. I laughed and said that I couldn't imagine saying out loud what I was writing. LOL
Name 10 things that nobody knows about you… that you'd like to share with us today. Your first job, how you met your husband, any pets, interests, hobbies, favorite food ext…
1) I'm allergic to perfume, cologne, and smoke to the point that I have two daily prescriptions and one over the counter that I take when I come into contact with strong scents. If I don't, I'll start to get a sinus infection within hours and have to go on antibiotics. I consider it Karma. Lol My mom had the same problem my whole life and I used to think she was crazy until it hit me in my twenties. It makes travel a challenge.
2) I have a harder time when they kill off an animal in a book or movie than when they kill a person. Judith McNaught and Julie Garwood have both hit me with that and I balled like a baby. Lol
3) My husband and I love corny movies. We crack up at stuff like the Hot Chick and Step Brothers. It's really pathetic. We also quote them way too much, sometimes in front of other people…
4) I don't watch a lot of T.V., my husband is always watching sports… We mostly watch the Big Bang Theory or The Voice when it's on. During the Big Bang Theory I find myself musing at the writer's brilliance in coming up with dialogue. lol
5) At least once a week I make a healthier version of what my grandma used to make me when I was little. I boil Smart Taste elbow noodles, add in scrambled egg whites and pour on the ketsup. My husband cringes at the sight of it, but it's my favorite. Lol My grandma used to cook the noodles, sauté them in butter, top with two fried eggs, and then add the ketsup…
6) I met my Husband in a bar… Yep, that really happens. Lol He was a friend of my cousin's who I'd driven six hours (one way) to go out with for just the night because I was bored. I was twenty four *shakes head*. There was an intense connection from the moment we danced. It was completely electric. Still is thirteen years later. 😉
7) Our song is Def Leppard's Pour Some Sugar On Me. The song we danced to the night we met. My husband still sings it to me, mostly with words he just makes up. lol
8) I'm a bit of a germaphobe and have to work to rein it in.
9) I don't drink a lot but when I do I like it to fit the restaurant. Beer or Magaritas for Mexican. red wine at Italian. My favorite drinks are red wine (Cab), a good Mai Tai and Almond Champagne.
10) I have a life size cutout of Fabio that my old coworkers gave me when I left my job. They all signed the back of it with sweet well wishes for my writing. 🙂
A couple of Fan Questions:
Lori Starr – I love your book! Just about done with it! How did you come up with the idea to write a book of this nature that is so exciting? Hard for me to put down!
Setta Jay – It comes on it's own after several drafts it just morphs into what it is 🙂
Teresa Krenz – If you don't mind me asking, how has you family responded to your writing genre ?
Setta Jay – I've told them it's dirty and I don't think my mother and aunt have any idea what that means. LOL I'm pretty sure they've got more main stream romance in mind. I've asked them not to read it, but you never know what they'll do. LOL I know they've bought copies. My mom was always one of those that frowned at the romance genre. She loves her mysteries. To each there own. I won't ever lie about what I do. I've warned them. If they read and frown, my hubs just said to not let it bother me. I guess a better answer is that they've been supportive. They just don't really fully grasp what they're supporting. LOL
I just wanted to send a HUGE THANK YOU to Setta Jay for spending the ENTIRE day with us!! Its been so much fun 🙂 we look forward to your upcoming books. I would also like to thank your husband for encouraging you to pursue your dream and helping you work out some of the great scenes we read about. *wink wink* This was great fun and I hope to do it again with you in the future.

The sad truth is that I'm not nearly as entertaining as fiction. Sigh. I am a thirty-seven year old stay at home writer, thanks to my incredibly supportive husband. We've been together for thirteen years and I still love waking up next to that sexy man. We lost our furry child recently, so we are childless at the moment. Our whole world revolved around her. Needless to say, I love animals, especially dogs. Okay, maybe not all animals, I'm not a super big fan of monkeys. Any animal that throws their feces kind of eeks me out. I may, or may not, have a problem with candy. I love any research that leads to Neiman Marcus' online shoe department. Spreadsheets give me way more happiness than they should. I love to read, the dirtier the better. It all started with the naughty historical romances by Judith McNaught that I devoured as a teenager. I love reading about hot, sexy alpha males and heroines that are smart enough to live.

Facebook Fan Page
Setta Jay Website
Goodreads Profile
Twitter @SETTAJAY_ 
Amazon Profile Page
Smashwords Profile Page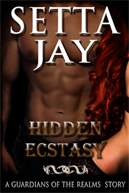 Amazon
Barnes & Noble 
Smashwords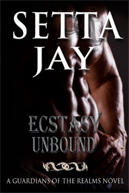 Amazon
Barnes and Noble
Smashwords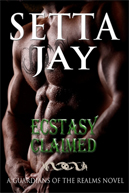 Amazon
Barnes and Noble
Smashwords