Title: Pounded by President Bigfoot 

Series: NA
Author: HUGO NOMINATED AUTHOR Dr. Chuck Tingle
Genre: Humor, Erotica, Tingler
Pages: 40
Heat Level: 2 out of 4 flames
Overall Star Rating: 4.5 out of 5 stars
Reviewed by: Naughty Book Snitch Alana
Read Alana's Goodreads review here
Allen has been interested in politics his entire life, but when things don't work out the way he'd planned, Allen settles for a fast paced carrier in political journalism.

It's no surprise that Allen jumps at the chance to interview President Yuldok, a bigfoot, as well as the first non-human president of the United States. Allen also has his suspicions about the president's sexuality, which come to a head during the interview.

Soon enough, Allen is making history by taking a gay pounding in the oval office from the first bigfoot president!

This erotic tale is 4,300 words of sizzling human on gay bigfoot action, including anal, blowjobs, double penetration, rough sex, and presidential beast love.

I've been meaning to review Chuck Tingle's work for a long time, because I love it. I love that he writes what he wants to write, and to heck with everyone else (and Ted Cobbler)! He writes to spread love and joy in the weirdest way possible, which is actually quite funny. Plus, he recently got nominated for a Hugo! I'm serious! I know some other authors who are viewing the nomination as a terrible thing, the fourth seal of the Apocalypse, and all in all just bad taste in showing how far politics rule the Hugos (and they do), but I think it's fantastic! Why NOT an erotic author?
To this effect, I am unveiling this… TINGLEFEST 2016!
Whether Chuck Tingle is someone's pen name, a real guy who has a thing for spaghetti and weird erotica, or a mix between the two, he's made an impact in the erotica world. Some hate him. Some love him. But absolutely NO ONE will deny he's the most bizarre-can't-look-away-what-in-the-heck-did-I-just-read erotic author out there.
This is one of his first books (though not his very first… I think a couple of them got republished, which messed up the dates and I'm not actually sure which IS first), Pounded by President Bigfoot.
We start off in the mind of a handsome gay blogger Allen Bennett. Allen tells us about how Bigfeet, or Sasquatches, came out in a big press release because their natural habit was being encroached upon by people. In just a short while, they integrated smoothly into the American way of life and could be found everywhere waiting tables, pumping gas, or even holding small government positions.
Eventually, one surprised everyone and ran for president! Ah, Gardook Yuldok won the nomination and eventually the election to become the first bigfoot president! It was quite scandalous as he wasn't married, so people theorized he might have been the first GAY president, but since the interspecies election held more sway, people just didn't care so much about the gay aspect. I will point out here the text does say incorrectly that Gardook is the first president without a First Lady. This is wrong. The honor actually goes to James Buchanan.
Anyway, our lucky blogger gets a press pass to conduct an interview with President Yuldok! Allen is stressing himself trying to think of the hard hitting questions, but when the times comes, President Yuldok asks if he can fuck Allen.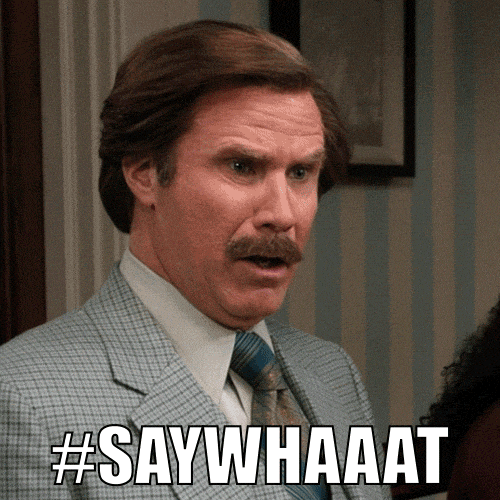 At least the president doesn't beat around the bush! The rest of the book is Allen at first saying no, and then coming to grips that he wants that big old bigfoot cock up his ass.
I found this book incredibly amusing, and while there were a couple of small errors (and some formatting paragraph indent weirdness, but I get where that comes from and sometimes with the software Amazon makes authors use, you get weird formatting), it was actually very well written. Oh, sure, it talks about how much Allen needs that big cock up his ass, but I found it actually quite clever and tender at the same time. There really is nothing like a Tingleverse erotic short. (PS: A lot of people aren't to get that gif below, but that's ok.)
In addition to Pounded by President Bigfoot, because the soul of books is love, we get a bonus story: I'm Gay for My Living Billionaire Jet Plane! This was a completely pleasant surprise for me as it was on my list of TBR for Tinglefest 2016. So, gentle readers, you get two Tinglers for the price of one!
I'm Gay for My Living Billionaire Jet Plane starts out with a guy, Alex, being nervous on a flight like we all are. He hears a voice out of nowhere comforting him, saying things will be alright. At first he thinks it's the overhead speaker, but it's not… it's the plane! 
Alex is relieved, and finds out the plane's name is Keith. Keith's a pretty righteous dudebro who became a billionaire by counting cards in blackjack in Vegas. Don't ask how Keith fit into the casino. Just… just don't. Anyway, it turns out Keith is a little lonely and invites Alex over to hang with him like bros do and have some beers. Alex accepts and here's where things start to get surreal. I know, I know, START to get surreal?
When Alex goes over to Keith's mansion, he finds Keith hanging out by the pool since he can't fit inside his house. Alex feels sorry for Keith, realizing that he's really an outcast and offers to do something normal for him, like put sunscreen on his back. He's especially interested in this after Keith takes off his shirt and reveals his cut six pack of abs. I've never noticed abs on my plane before when I flew, but… sure. Why not?
From there, Alex starts rubbing Keith down hard and then sees a smooth cock and balls! He just can't resist riding that plane, and there the wild living object man sexing starts!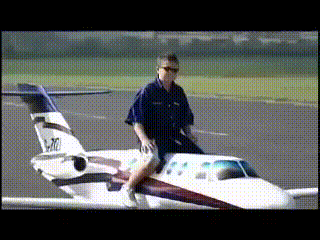 This one is a trip. Pounded by President Bigfoot was awesome, sort of tender, and a commentary on how anyone can be president… but bigfeet are still living things. Creatures, if fantastic, made of flesh and blood. This is a fucking plane. Literally, a fucking plane. Trippy, weird, and still somehow sweet at the same time, I couldn't help but to smile all the way through this short, through both shorts actually. HUGO NOMINATED AUTHOR Dr. Chuck Tingle is a master of comedic, satirical, erotic commentary. The formatting can use a little work, true, but his son by the name of Jon does pretty good editing his stuff. It's not that distracting. Hell, I think some of MY shorts have more errors, and I'm a fanatic about finding them. The thing about the Tingleverse is not that it's erotic or funny, but that it's sweet. And it is. It's more romantic than a lot of romances I've read out there, and while I can't vouch for the gay sex (even though I write it, it's really not my kink), it is CERTAINLY imaginative! I can't imagine anyone NOT smiling during a Tingler. I highly recommend this book, especially because of the bonus story… you get two Tinglers for the price of one! How can you not like that?
In the end, I give this book 9 Official Presidential Buttplugs out of 10.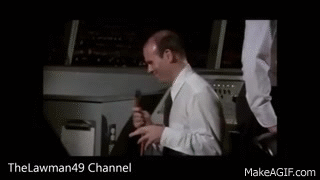 Amazon US ~ Amazon UK ~ Amazon AU ~ Amazon CA