Title: Ball Gag Princess in A Saturday Morning Spanking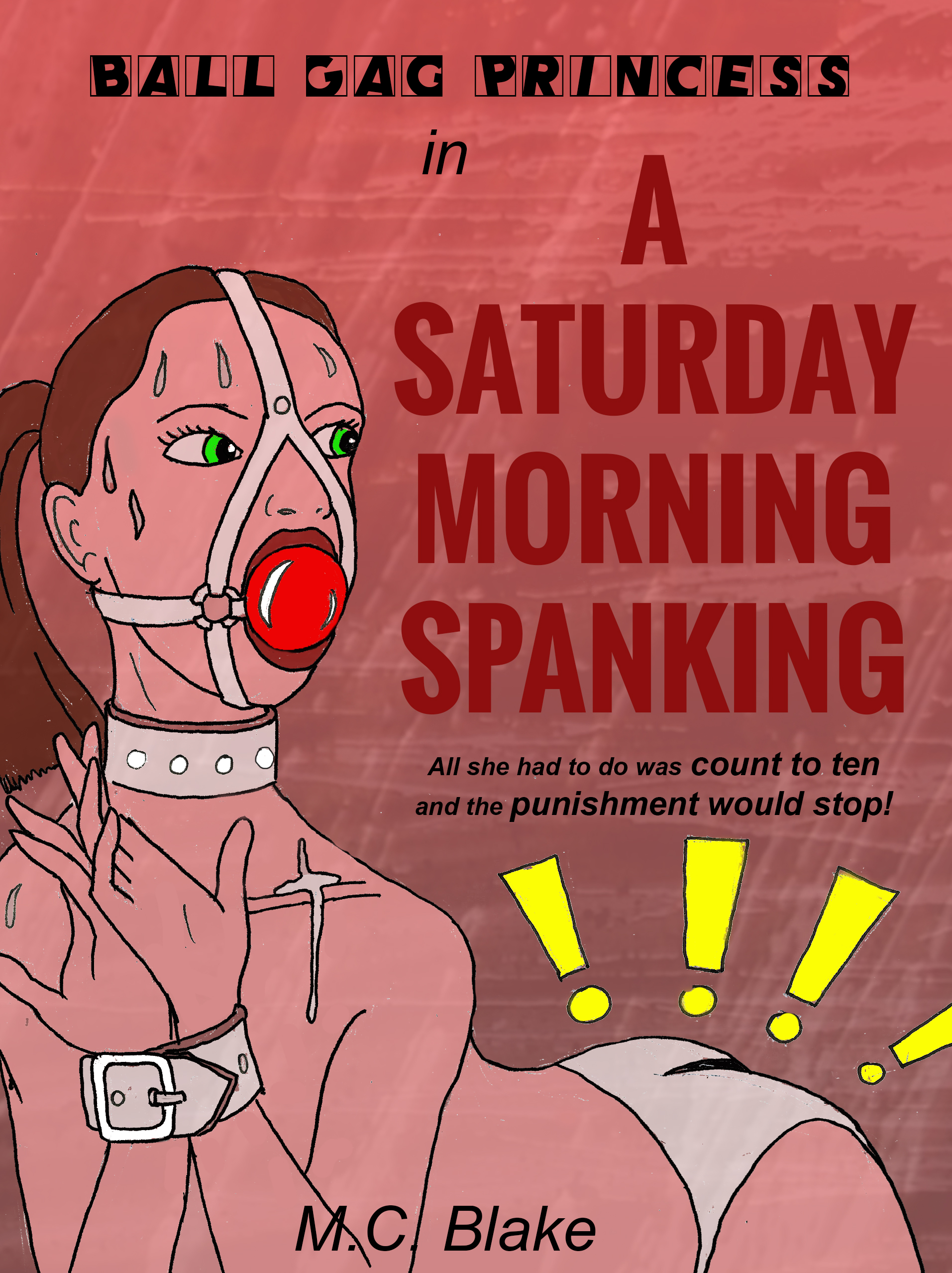 Author: MC Blake
Genre: BDSM, Erotica
Format: Audio, approx 30 minutes
Word Count: 5,080
Heat Level: 3 out of 4 flames
Overall: 5 out of 5 stars
Reviewed by Naughty Book Snitch: Mindy
See Mindy's Goodreads Review Here
Princess is about to receive a lesson at Sir's hand…
In this 5,000 word short, Princess prepares herself for Insepection and a Lesson by Sir. This morning, Sir has a very special lesson in mind for his favorite submissive…one that will push her to the limits of pleasure and pain at his hand and his crop! Will Princess be able to complete the lesson to Sir's satisfaction, or will the pleasure and the pain overwhelm her before she can finish it? all she has to do is count to ten…
A short, intense tale of spanking, arousal and the pleasure of the submissive. Contains explicit descriptions of pleasure and pain…

Princess prepares for her Saturday inspection and lesson from Sir. Princess is extremely meticulous about her preparations and wants Sir to be proud of her. She wants to push her limits and please him, so she up's her spank count. What Princesses didn't realize is that she is to count out the number of smacks and this lesson requires enunciation and articulation. Which is somewhat difficult to carry out with a ball gag firmly in your mouth.
"He knew that she was already aroused. She knew that he was pleased. A perfect harmony."
I just got a A Saturday Morning Spanking on this super sexy and sinful Sunday! I just had the most unique and wonderful experience and I hope that I can correctly articulate exactly how much I loved it.
What was so unique about this particular story? Well, the author did a live reading and I was one of the lucky people to be included in this spectacular event. The sound of the authors voice, that accent and how sexy each word sounded rolling off his tongue (especially pussy.. mmmm).The interpretation of the story and visual I have in my head was so much fun. Sir has a voice and it belongs to Antony Quill. I'm pretty sure I could get addicted to that sound.
I loved this so much that I immediately went to Smashwords and bought the book, relistened to the audio and read along with it. For me it was even better the second time. I could listen to this authors voice and his words were making the words on my kindle come to life. Like a scene from a movie playing only in my head.
As the story continued, there are several more swats from Sir and attempted counting by Princess, Sir decides to change things up. This is the part that has me really fucking giddy and positively electrified with excitement.
"The crop came down hard on both buttocks with a loud thwack, so hard it caused her to scream."
I missed it the first time I was listening, but the build up to this moment was made even sweeter with a 'thwack' in the background. I actually rewound the recording and listened to it again. It was awesome and made my insides quiver like an earthquake rolling through my body.
If you know me, then you know I'm not a fan of foot eaters in my stories. Nothing against it and to each their own, just not my thing. Now, let me clarify that there are no foot eaters in this story. However, there is a moment when Princess is contemplating the idea of licking Sir's shoes clean. Let me express how immensely grateful I am that she did not do this. 🙂 Thank you for that. With that being said, the only thing I was missing from this story is Sir's cock in Princess's vagina. Yep. That's what I was craving by the end.
Even though there is no sexual intercourse in this book it is extremely erotic. It does have very arousing spankings that lead to erotic masturbation and eventually an earth shattering orgasm. I gave a heat rating of 3 because this story is exceptionally erotica and will leave your panties dripping wet. You don't need to have intercourse to be this hot and it was pulled off flawlessly.
Overall, I loved it. It was perfect in my eyes and to my ears. This story is perfectly paced and with the author actually reading makes this even better. I don't think the sound effect I mentioned earlier was planned, but I loved it because it added a little extra flavor and created a memorable moment for me. It came at an intense point in the story and coupled with the authors voice and the smack in the background… *shivers* it was perfection. This author is extremely talented and a truly unique and innovative individual. I would recommend anything he publishes and I would highly recommend purchasing a book before he does a live reading. It will rock your world!
Now quit reading this review and go get your own copy!



Only available on smashwords right now, but you can purchase it and download it in any format you choose.
Click HERE to listen to the live reading. You will also be able to purchase the audio version for half the price through the Anthony Quill website.