Title: An Imaginary House by the Sea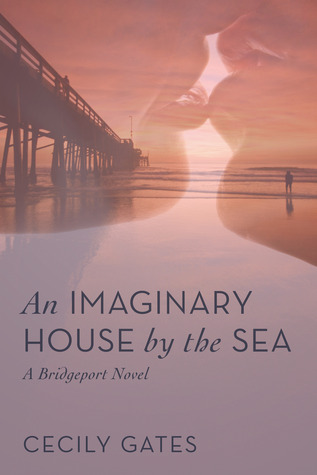 Author: Cecily Gates
Series: Bridgeport #1
Genre: Chick lit
Pages: 233
Heat Level: 0 out of 4 flames
Overall Star Rating: 4 out of 5 stars
Reviewed by Naughty Book Snitch: Mindy
See Mindy's Goodreads Review Here
"Love is a messy thing. That hopelessly devoted, deep-in-your-bones kind of love we used to dream about when we were kids—it turns out that it's hard. It aches. It takes time. Like a house that weathers the ages, it must be built, brick by brick."

Snarky and ambitious Dawn Campbell almost had it all: a job producing lavish celebrity events, a hip downtown apartment, and a studmuffin of a boyfriend. But after losing all three in one fell swoop, Dawn finds herself resorting to the unimaginable: returning home to Bridgeport, an oceanside town where the air smells sweet but not much happens.

When a chance encounter brings her into the sturdy arms of John Brown, her childhood best friend, old feelings come rushing back. As the sparks fly, life finally starts to look up for Dawn…until she meets his wife.

Marguerite Brown has everything that Dawn doesn't: a killer fashion sense, a breathtaking beauty, and a French accent—oh, and the kind of temperament that makes great white sharks seem docile in comparison. Determined to release John from an unhappy marriage, Dawn turns on the charm and makes a plan to finally win back her one-that-got-away.

But after Dawn stumbles upon a secret that, up until now, Marguerite has meticulously kept hidden, the two women are thrust into an unexpected friendship. An Imaginary House by the Sea follows Dawn's journey towards self-rediscovery, finding purpose, and building a more complex, steadfast kind of love than she could have ever imagined.

When I first started reading and found out that Dawn was sleeping with a married guy, I immediately started coming up with a list of people that will never read this book. Now that I'm done reading it… I would recommend it to every single one of those people. This is a story about best friends growing up and apart. It's about life and life choices and forks in the road. It's about family, friendship, love, loss and second chances.
This story is told from Dawn's POV. We get to experience her journey from a fallen city socialite to moving back home with family and rediscovering herself. We get to experience Dawn as a youth through her flashbacks of her and John's budding friendship and feelings.
I thought these flashbacks were some sort of letter to John as an adult. I was so scared he was going to die or that Dawn was dead and John was reading her diary. But that's not what it was 🙂
I was not a fan of Dawn's at the beginning due to the homewrecker role she was cast in. However, as time went on and Dawn was on the road to rediscovering herself, she owned up to her mistakes and worked on improving herself and making her mark on the world.
Why only 4 stars? Well, for me, there was just a couple of small things really. Dawn's flashbacks. They were perfect in every way and interesting to read and become more familiar with her feelings for John. But, it was awkward, for me, the way it was presented. Like Dawn was talking to John or writing him a letter or something along those lines. I guess I wanted it to have meaning as to why it was presented that say. Another thing that was a little off to me was Marguerite. She came off as this mega bitch and I wanted to punch her in her snobby face. Then all of the sudden her and Dawn share a moment and all is good and everyone seems to be okay with Marguerite. Dawn did make note of how she had misinterpreted Marguerite's earlier comments and tone. So I guess that's okay.
If you're thinking about reading this then I would recommend getting a box of tissue, a bottle of wine, a cozy blanket and curl up with your favorite pet. I was captivated from the very beginning. The writing style is superb and Cecily Gates has a true talent for storytelling. I pretty much ugly cried from 47% all the way to the end. I kept trying to take breaks because I really don't like crying but that was taking too long. So I gave up and read it straight through. So worth it…
Overall, I really, really liked it. This is a little out of what I normally read and there is no sex at all. Lovers of Nicholas Sparks will really enjoy this. An Imaginary House by the Sea is an emotional rollercoaster so be prepared. It will make your heart hurt and feel good at the same time. Cecily Gates will kick you in the heart then nurse you back to a new and improved healthy heart. Highly recommend this for a rainy day and/or when you know you just need a good cry.
I received a copy of this book via the author in exchange for an honest review.


My superpowers include mixing stiff drinks and writing sappy novels. Often at the same time.

I'm the author of the "ugly cry" An Imaginary House by the Sea. I also blog for The Page Girls, a website delivering weekly themed issues with short stories, cocktail recipes, and more.

WEBSITE * BLOG * TWITTER * FACEBOOK * GOODREADS
THE PAGE GIRLS ~ BLOG * FACEBOOK * TWITTER * INSTAGRAM * YOUTUBE

AMAZON US * AMAZON UK * AMAZON AU * AMAZON CA * B&N NOOK * SMASHWORDS