Title: Chronicles of a Humiliation Backfired (Season 1)

Author: Moctezuma Johnson
Series: Chronicles of a Humiliation Backfired
Genre: Erotica, Humiliation, Bukkae, Literary Porn
Pages: 85
Publication Date: January 28, 2015
Publisher: Girls Carrying Books
Heat Level: 4 out of 4 flames
Overall Stars: 4 out of 5 stars
Reviewed by Naughty Book Snitch: Mindy
See Mindy's Goodreads Review of Season 1 Here
The Bukkake Hotel Story (Episode #1)
The Devil's Breath & Angel's Touch (Episode #2)
The Nymph & The Epiphany (Episode #3)
Prince of the Tentacles' Taboo Affairs (Episode #4)
The beautiful Korean girl that Moctezuma always wanted since the moment she walked into his classroom, Jynx, is madly in love with him. Unfortunately, he keeps sleeping with many other girls and she's pissed at the sluts. She cannot stand the humiliation of knowing that he has broken her heart, left her to find her way in the seedy meat-market pick-up joints of Korea where she gets severely used by groups of guys, and started fucking a gorgeous supermodel who will do anything Moctezuma wants.

Jynx concocts a plan to destroy this lanky super-model with the world-class ass, who is so sexy she'll make you puke, and return to Moctezuma's side, but many things spiral out of control from the onset. Will these star-crossed lovers be reunited or will Jynx be the one humiliated?
The crazy plan involves drug use, slavery, mind control, enslavement, and many other hardcore fetishes. This story is NOT for the faint of heart. If you want romance, keep looking. If you want characters as crazy as they are brilliant, as deceptive as they are loyal, as logical as they are off the deep end then download this ASAP.

The Bukkake Hotel Story (Episode #1)
Well… Im not even sure how to review this. Moctezuma, Jynx and Jenny. Moctezuma seems to have a magical penis that makes women brainless Moctezuma Zombies. He is sticking is dick in every vagina, mouth or asshole he comes across.
Jynx is Moctezuma's match when it comes to kinky fuckery and will do anything he says to keep him all to herself. She became the accidental girlfriend when she never left his house.
Jenny is the new naive cumslut that Moctezuma is currently fucking around with and she will blindly do anything he asks.
Jynx goes straight Sid and Nancy on Moctezuma and stabs him when she catches him with Jenny. Then from here it's all fuckety fuck, fuck, fuck, gang bangs and facials. Jynx is psycho and I'm a little afraid of her. Don't turn your back on her because she'll cut you without flinching.
So far there really isn't too much story except that there are two women fighting for the attention of Moctezuma's cock. So step right up and earn your redwings. We have anal, ass to mouth, gang bang, copious amounts of cum, psycho girlfriends and jealous stabbings. I have to admit it was a twisted turn on and I can't wait to move on and see what happens. This is not for everyone so please do approach with caution. Now on to the next one.
The Devil's Breath & Angel's Touch (Episode #2)
This one picks up right where episode #1 left off. On the roof top with Jynx, Jenny and Moctezuma. Psycho Jynx will have her man and she has some special powder to make it a little easier.
Waking up naked chained to a water pump with only little bits of memory from the previous night. Moctezuma remembers bits of phallic shaped gags, jerking off in public, orgies and eating pussy. Jynx has turned the table and has Jenny and Moctezuma under her spell.
Moving onto the next psycho trip and see what Jynx has up her sleeve.
The Nymph & The Epiphany (Episode #3)
ALRIGHT!!! Tentacles!
Wait… that's all I get?! WTF!!
This was a whirlwind of what the fuck is going on! Devils Breath fucking you up and never mind that inner voice that tells you to run because there is some sweet ass pussy in your face that you need to take advantage of.
What in the fuck is in the fridge? Why? Why would you keep and label all that. I think Jynx is on a different level of crazy. I feel like if I keep reading this dirty, delicious, drug induced, psycho filth that I may catch an STD or something.
So on that note, Im moving onto the next one. I feel like some crazy shit is about to go down.
Prince of the Tentacles' Taboo Affairs (Episode #4)
My goodness, Jynx is a crazy bitch. She just shows up in the craziest places. Your sitting there relaxing and having a good time, getting some massages and blowjobs and then she shows up.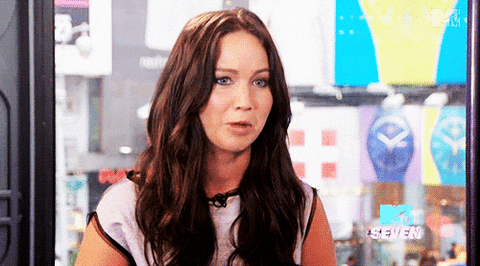 Ummm… well, all I have to say now is what the FUCK and THAT'S IT? I don't even know what the fuck is going on. Am I alive right now? Am I even breathing? I'm seriously questioning my sanity at this moment.
Overall I really enjoyed this crazy trip through psycho town. Reading this is like being on a strange acid trip in the orgy jungle of an alien infested Asian city who likes rim jobs and cum shots with morning coffee. The moment you think you know what's going on, BAM! You get bitch slapped with a dildo, cum poured all over you and then ass fucked so hard your tonsils hurt. I'm definitely filing this under the strangest yet oddly erotic thing I've ever read.
Maybe a series of gifs will accurately describe some of my reactions?
At first I was like, yeah Im gonna make this book my bitch!
And then I'm like, I'm not really sure what I've gotten myself into…
And then… what the fuck planet are you from??
Oh.. Okay… but don't tell anyone… 😉
Whow…. I need some recovery time here.
This is some fast paced, hardcore literary porn smut right here. Just downright filthy, slutty, delicious, love to hate, don't want to admit you like it, confuse your vagina, make you gag then go masturbate. If you are not easily offended and are very open minded, then you will enjoy this. Still proceed with caution as you dive in the shallow end of this offensive and humiliating rabbit hole. This trip isn't for everyone.
Will I read this author again?
You bet your jizzed up ass I will. MJ has a new fan here!
I received a copy of this book via the author in exchange for an honest review.


Amazon US * Amazon UK * Amazon AU * Amazon CA

If your not sure you want to buy the entire season, try the first Episode for free: Chronicles of a Humiliation Backfired – Episode One: Hotel Bukkake Party

Call me Moctezuma!

They say that I once took the Millennium Falcon for a spin through the Triangulum Galaxy. They also say I once had sex with both Angelina Jolie and Margaret Atwood at the same time. They say a lot of things, don't they?

I crawled out of a New Jersey sewer in the 70s and have since lived all over the world. When not writing books and blogs, I enjoy photography and writing poems for people. If you want to hire me to write a poem for you in any way, contact me at moctezuma.johnson(@)gmail.com (remove the parenthesis).

Learn more at my site: http://moctezumajohnson.com/?SW

Cheers,
MJ

Website * Blog * Google-Plus * Twitter * Facebook * Smashwords