Title: Lena's Security
Author: BSM Stoneking
Published by: BSM Stoneking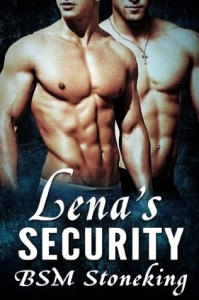 Published Date: February 1, 2014
Genres: Erotica, Ménage, Romance
Pages: 15
Heat Level: 4 out of 4 Flames
Overall: 4 out of 5 Stars
Reviewed by Naughty Book Snitch: Mindy
See Mindy's Goodreads Review Here
Lena will never admit to her friend Amy that she is secretly envious of her. She wants what Amy has, a loving husband, and 2 wonderful children, but she's got to catch someone's eye first.

Lena has her eyes set on both of the security guards at her job, but she can't find the courage to ask either of them out. There's no way those two, stone-chiseled men don't have a girlfriend.

After realizing Lena likes both of them, one of the security guards catches her in compromising position. The thought of how much trouble Lena could get in brings one word to his mind, blackmail.

This erotic short story is and adults only read! 



Lena is pretty plain Jane. Straight brown hair, big boring owl eyes and hides her smoking body under her lab coat. She is escorted to her car at the end of every shift by a couple of security guards name Dominick and Tim. All she wants is to knock one in the car and drive him home for a night filled with dirty sex. 

AND Note from the Author: This short story is not intended for anyone under the age of 18. It is a story for adults only, including profanity and explicit sex scene. This is a m/m/f erotica. 
**UPDATE** This is an M/F/M Erotica 5/3/14


My only complaint… its to short. I know, I know… its a short story. But sometimes shorts are just to short! PLUS, it was m/f/m not m/m/f. Maybe it will be m/m/f in later books, but I really wanted a taste of that action now. With that being said, I really liked this little quickie. Its got hot menage action, surprise parking garage sex and security guys! FUCK YA!! 

Please do heed the author note. This is graphic and I FUCKING love graphic on page, dirty, filthy mouthed, raunchy sex! 


"Eat my pussy until I cum all over your lips, then you can stick it wherever you want in me."
"Leave that mouth open a little longer and I'm going to shove something in it."


Overall, I freaking loved it. Its super hot, kinky, its all about sex! If it was a little longer then we would have gotten more story, but what we did get was believable and good. So if you're looking for a hot quickie read… something to get your juices flowing *waggles eyebrows* then this is just the shot of sexy you need!


BSM Stoneking Facebook Page ~  https://www.facebook.com/bsmstoneking?fref=ts
Twitter ~ @BSMstoneking  https://twitter.com/BSMstoneking


Amazon ~ Lena's Security ~ http://amzn.to/1s3GO1w
Reviewed by Naughty Book Snitch ~ Mindy Head Bitch In Charge