Title: Not Even Death-Still Your Master

Author: B.B. Blaque
Series: Not Even Death
Genre: Erotic Romance, BDSM, M/s
Pages: 89
Publication Date: September 9, 2014
Heat Level: 4 out of 4 flames
Overall Stars: 4 out of 5 stars
Reviewed by Naughty Book Snitch: Mindy
See Mindy's Goodreads Review Here
Review for ~ Eternally Your Master #1
See the book trailer for Eternally your Master
The continuing story of what happens when a Master, Markus Cruz continues to guide his slave to her next happily ever after….when not even death, breaks their bond of love.

First was Derrick Destry…safe, surprising, dominant….and a whole lot sexier than she ever imagined. (See Not Even Death-Eternally Your Master for their story)

Next, comes Blaze St. Sebastian…dangerous, rock star, Master and full of life altering surprises–everything she always dreamed he'd be and more.

In collaboration with Markus, Calico's deceased Master…she will learn the next lesson…Trust…taking a chance on life…so she'll be ready to take a chance on love and surrender.

Markus is still Calico's Master, not even death has broken their bond of love. He continues to show how much he cherished his slave as he leads her to the next phase of life.
The foundation has been laid to guide her to future happiness as a slave, but a base is nothing until something rises from it.

Enter Blaze St. Sebastian—the sizzling, bad-boy rock star. He is the definition of edge and the next flame in Markus' line to ignite Calico's life.

With Markus and Blaze's guidance and discipline Calico will learn to take chances on life, love and herself.

She will learn to trust, and if she can stop trying, she'll learn she can just fly!

From the streets of NYC, to the beaches of Florida go for a ride with Calico as she experiences life, love, sex and music in ways she never fathomed.
Product Details

"Derrick was sent to pull you out of the darkness, to shake up your world… and I… I'm here to push you over the edge… make you take chances."
Oh.. my… GAWD!! I think this author has a direct link to my vagina!
We also get a little bit more background about Calico and Markus. The discussion about the Master and slave relationship and the really fucking hot way that Markus took Calico for the first time. Sign me up!! However, I still wanted a little more background. But I guess that will come in time. I need to have some patience. All good things come to those who wait. Right?
"You will not be a whore, but in time you will learn to be my slut."
I love the fact that Markus loves his slave so much that he choreographs Calico's re-releasing into the world so she can find happiness again. I love all the letters he leaves her and how she looks forward to each and every one. I love that Markus is still with her every step she takes. It almost feels like a pick your own adventure. If you do well, then you get to go down this path… if you still need more time, then you will go down this path. But Markus knows her very well and understands what she is capable of, even if she doesn't.
"You see baby, Markus was a very smart man, not only in business, but in the business of you."
Calico was given a gift from Markus and Derrick in Eternally Your Master and she puts it to really good use in this one. Her fantasy while using her gift was smoking hot and I loved the location she picked. (sorry, you'll have to read to find out about that.) My most favorite part of her fantasy is when Markus grabs Blaze's cock and is getting it ready for Calico. Again, that is just one of the many reasons I have this book on my 2 finger 1 handed read shelf.
Calico's next lesson is with Blaze. He is a rock god bassist for HOTKINK and she is a huge fan. Calico is giddy with excitement while she's preparing herself for Blaze. When he makes his appearance… the tone of his dark and commanding voice sends shivers down my spine.
"Kneel."
Blaze doesn't hold back and he doesn't sugar coat anything. We get a LOT more BDSM and a lot more toys with Blaze. He even brings a special new toy to the party and plays Calico like an instrument. Very intriguing.
"Look at me Kitty – to my eyes – stay with me! This is my song to play – I'm the musician, the Maestro – it's my spell to cast."
Ok, I HAVE to mention the description of Blazes cock. Holy bend me over and show me how you use that thang! I want a sore throat! Really, you just have to read it to understand where Im cuming from. 😉
Then when Blaze is on stage and he comes over to Calico… Wow! I know it's a very brief moment but it's a memorable one. I'm gonna need some holy water, a saddle and some dry panties stat!
When Blaze is done playing the show, he's ready to play with Calico.
"Pinning her, arms raised in surrender, he continued with dynamic upward thrusts. Each one the perfect beat, the perfect depth – the exact tempo to play her song."
At this point I had to make a note on my ereader and it says "Jesus!! BB you totally rock!" And that is just a tiny part of the scene.
Alright! Let's talk about the "Tennis Bracelet" Maxine. This girl brings out my inner ghetto.
But the way Blaze handles things is smooth and almost make if feel like a complement.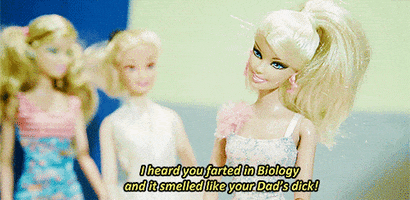 "Kitten, you do not have to take shit from anyone but me. You are a slave, but you are no one's doormat."
Markus had once mentioned that in time, Calico would learn to trust him as her Master. Now she needs to trust Blaze to get through her next lesson. When Kitten hesitates because of her fears… Kitten gets punished. I'm not sure I would like that punishment, but the way it's written, I'm seriously considering signing up for anything Blaze throws my direction.
I don't even think I need to mention it at this point… but it's not just the sex that's hot, it's the words and the way they're used to bring out emotions and feelings. Its like this author is gently stroking your hair then all the sudden she grabs a fist full of your hair and bends you over the couch and demands your submission. Just… BRAVO! Maybe a few gifs can explain what I mean….
A bit of warning to people who are thinking of reading this. If you are expecting FSOG you should probably turn around now. That is kindergarten shit compared to this. However, if you've made it through this review then you're probably wanting something more intense and true to the world of BDSM then look no further. You have found the author that will give it to you. This novella has bondage tables, cages, dungeons, collars and leashes, kneeling at your Masters feet like a good slave should, eating out of bowls, sensation play, deerskin flogger, faux fur mitt, vampire glove, rattan cane, elk skin flogger, ball-chain flogger, subspace and Calico loves to be marked. Well, she certainly does get marked and again… you'll have to read it to find out how and what.
Overall I really liked it. The storyline is absolutely fascinating, the characters are very well written and the sex is so awesome that I feel like I'm right there in it with Calico. I also want everyone to understand that my 2 finger 1 handed read shelf isn't only smut or porn on paper. I do have some of that in that category but reading BB Blaque's books are more like a gentle caress to the leg and a slow lick and suck on the neck and the next thing you know you're squirming in your seat working on scratching that itch. I love this authors writing style with going back and getting tidbits of Calico's past. Very intriguing and I cant wait to read more.
I received a copy of this book via the author in exchange for an honest review.



Not Even Death-Still Your Master (Book #2)

Amazon US * Amazon UK * Amazon AU * Amazon CA * Barnes & Noble * iTunes * Smashwords * Scribd * txtr
Want to know more about Blaze St. Sebastian

Other books by BB Blaque
Not Even Death-Eternally Your Master (Book#1)

Amazon US * Amazon UK * Amazon AU * Amazon CA
Barnes & Noble * iTunes * Smashwords * Scribd * txtr
See Naughty Book Snitch Mindy's review here
See the Not Even Death – Eternally Your Master Book Trailer here

Not Even Death-Always Your Master Book#3

Amazon US * Amazon UK * Amazon AU * Amazon CA
* iTunes * Smashwords * Scribd * txtr

I write beautifully flawed characters who ultimately find, perfection is not a prerequisite. Our flaws are what make us unique and some flaws compliment each other better than others.

I love BDSM (Male dominant/female submissive.) There's something that just feels so right about a man wearing the pants (especially when he wears them well and fills them nicely.) I am interested in the psychological aspects of relationships in general and especially when there is a power-exchange dynamic.

My world would stopping revolving if not for heavy rock music (and the wonderfully talented people who make it.) Music and it's makers will definitely be strongly visible in my work. I listen, I remember…I listen, I'm inspired…to write…to love…to f**k…to live.

More available at my new website http://www.bbblaque.com

Website * Blog * Twitter * Facebook * Facebook/Master's MC * Pinterest * Goodreads 
Naughty Misfits Club – BB Blaque