Title: Only For Him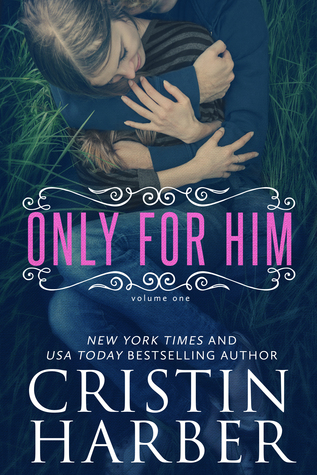 Series: Only #1
Author: Cristin Harber
Genre: New Adult Contemporary Romance
Pages: 70
Heat Level: 2 out of 4 flames
Overall Star Rating: 4 out of 5 stars
Reviewed by Naughty Book Snitch Kay
Grayson Ford and Emma Kinglsey—close since they were kids, opposites in every way. He's the stuff high school crushes are made of, Mister Popular, and captain of every team. She's artsy, cute, and not in his league, though fully aware of Summerland's "I Dream of Dating Grayson Ford" support group.

I can't say no. The girl's had my heart since before I knew it went missing.

He hides a life of hell. His father hates him, his mother's gone. Emma is his only savior, yet she doesn't know her power over him. She's the only girl he wants, the only one he could ever tell—though he won't.

I'm stronger, bigger, more of a man than he'll ever be, but because I ruined his life, I've taken his crap, his attacks, the vulgar nature of his existence.

Until she discovers Gray's embarrassment, his humiliation. Emma fights for him, for a chance. Theirs is a Cinderella story that she believes impossible. But as the layers peel back, it's just a guy who needs a girl in order to keep breathing.

My mind is already doodling Mrs. Grayson Ford in imaginary notebooks. He has no clue where my head is at… But, given that I didn't see what just happened coming, maybe I have no clue where his head is at either.

Ahh, first love. It's all consuming, precious and sometimes heartbreaking. It has to happen for us all and this story is about the first love of Grayson and Emma.
This series will be done in a group of novellas and this is the only one out at the time of this review. It does end in a cliffhanger that left me screaming NOOOOO but it was a helluva read. Grayson is the classic boy from the wrong side of the tracks. Horrendous home life complete with extreme physical abuse. His father is a real piece of shit and you as the reader most certainly hate him. Grayson has a facade in place, good grades, doesn't get in trouble at school, he's popular and good looking. He spends most of his time at his best friend's house.
Emma is Grayson's BFF's sister and she has loved Grayson for as long as she can remember. She knows she's not his type of girl but that doesn't stop her from wanting to be the girl he loves. Instead, the two become best friends. Even though most of Grayson's life is a subject not discussed, Emma knows something is not right. One day Grayson lays his feelings for her out on the table. To say she's shocked would be an understatement but she's thrilled he feels the same way about her.
As their relationship veers toward intimacy, she comes face to face with the hell Grayson deals with at home and it's the first obstacle they face as a couple. From that point on, it's the most precious of first love stories. Cristin Harber is a true gem at writing love stories. Her Titan and Delta series are an auto buy for me. This one scared me because is NA and that is a tricky genre for me. For those of you that are like me and want graphic sexual detail, you're not gonna get it here but it's okay because the story is great. This was a fantastic read for me and I'm more than eagerly awaiting the next installment.
Book given in exchange for an honest review via the author and NetGalley.