Title: Ravished by Hercules

Author: Jessica Satin
Genre: Fantasy Erotica, Mythology
Pages: 44
Publication Date: July 18, 2014
Heat Level: 3 out of 4 flames
Overall Stars: 4 out of 5 stars
Reviewed by Naughty Book Snitch: Mindy
See Mindy's Goodreads Review Here
Megara never imagined meeting Hercules while trapped in the cave of the Nemean lion.

Hercules is drawn to Meg like a magnet to iron even before learning she is the rebel daughter of King Creon. After a long, sweaty afternoon in the lion's cave, Hercules can't get Megara out of his mind. He shouldn't see her again. People feared his strength and anyone associated with him was in danger.

Against all reason, he invites Megara to help him slay the Lernean hydra, his second labor. A trained warrior, she agrees immediately. Her body rises to Hercules' touch like steam, but she tells herself he is just for fun. She cannot fall in love again.

Will Hercules pay the price for putting Meg's life at risk? Can Meg's heart withstand the charms of a demigod?

Ravished by Hercules is the first a series of Hercules erotica.

We start our mythological adventure with Hercules slaying the Nemean Lion, who is guarding a group of scantily clad women. Hercules has his sights set on one of the women after she helps him kill the Lion.
Watching Hercules kill the lion has made Megara hot, horny and ready for him and they get right to it, rolling around in the golden lions blood. I know that might not sound hot, but the lions blood is gold and that IS hot to me. I was really hoping for a super hot orgy with all the other women he rescued, but they all left. Maybe next time *fingers crossed*
"He growled, his breath hot and sharp against her ear. He couldn't bear it any longer. In one sinuous movement, he pinned her hands above her head and drilled rapidly into her."
Meg is a bossy woman and when she wants Hercules, she isn't afraid to tell him what to do. She is a powerful warrior and can definitely hold her own against any mythical monster.
"Let's go kill a wicked beast," she said, skipping off ahead of him. "Catch me if you can!"
The sex scenes in this are smokin' hot! I'm pretty sure my ereader was overheating because my panties needed a fuckin lifeguard they were so wet.
"I'm going to sit you in this tree and eat you out like a starved wolf."
One thing that bothered me is the foot eating/licking/sucking. If you know me then you know if you get my foot near your mouth you can expect to be kicked in the face. To each their own and if you like that sort of thing, then pour some ketchup or whatever you want on it and eat that foot up. For me… NO THANK YOU!
There is a part in this story where Meg is pouring wine all over herself. It's not bad but it did make me giggle a little. All I can think of are rap video's where women pour champagne all over themselves.
Overall, I really liked it. This does have a very tiny cliffy and leaves you ready to read the next installment. I hope the next one comes out soon. Jessica Satin has a unique writing voice and I love her style. This is the second book I've read by her and I can't wait to see what she does next. Jessica is my naughty fairy godmother, turning all my favorite childhood stories into my adult fantasies. I'll be stalking her page to see what else I can get my hands on.
"Ravished by Hercules is the first in a series of Hercules erotica that traces Hercules and Megara's sexy adventures as they complete each of the twelve labors."
Bring it on… Im ready 😉
I received a copy of this book via the author in exchange for an honest review.



Amazon US * Amazon UK * Amazon AU * Amazon CA

Other Books By Jessica Satin
The Ravishing of Beauty

See Mindy's Blog Review Here
Amazon US * Amazon UK * Amazon AU * Amazon CA

Snow White and the Seven Huntsmen: Grizzly Seduction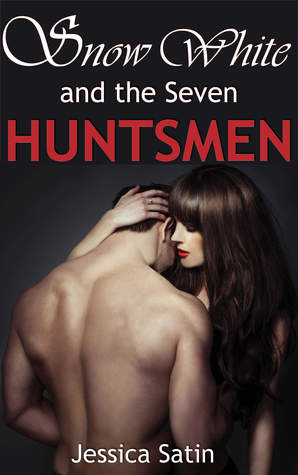 Amazon US * Amazon UK * Amazon AU * Amazon CA


Jessica Satin is a young woman living in New York City with her boyfriend and two fluffy white cats, Zeus and Athena. She loves coffee, long conversations, and all beautiful things.

Jessica's first erotic fairy tale, The Ravishing of Beauty, a steamy, dark retelling of Beauty and the Beast, has met with rave reviews.

Her second story, Ravished by Hercules, is a sizzling reforging of the myth starring the hottest demigod of all time and his doomed lover, Megara. It is the first in an exciting series of Hercules erotica.

Follow Jessica on Amazon, Twitter @JessicaSatin and Goodreads. She loves hearing from her readers!