Title: The Prince of Cups

Series: Villainess #2
Author: Alana Melos
Genre: Sci-Fi, Fantasy, Paranormal, Erotica
Pages: 199
Heat Level: 3 out of 4 flames
Overall: 4.5 out of 5 stars
Reviewed by Naughty Book Snitch: Mindy
See Mindy's Goodreads Review Here
The Villainess is back!
Follow the further adventures of the villainess Capricious Whim as she suffers the consequences of killing the double-crossing fixer who had set her up. It's hard being a villain… and even harder when the local contacts think you could be out to get them. Realizing she needs to have someone to watch her back and negotiate jobs for her, Caprice is in a sticky situation…but she needs the perfect partner.

Enter Regulus, a villain from the "bad old days". The psychic operative has got the experience, subterfuge, and brutality she needs to succeed in her goals. In him, Caprice meets her equal in power, bloodlust, and desire. A meeting between their minds results in a dark, dangerous passion, a thirst unable to be quenched with just one drink.

There's only two problems… he's an interdimensional fugitive from Axis Earth, an alternate dimension where the Axis powers won World War II, and his help comes with a price. When Caprice agrees to help him get free from the hunters who pursue him, a seemingly straightforward task becomes complicated… fast.

This is a super-villainous dark fantasy/sci-fi novel, containing mature content and themes including descriptive violence and explicit sexual situations.

Dear Alana Melos,
That is all for now.
Sincerely,
Mindy Book Snitch
The Prince of Cups is a wonderfully evil, diabolical, wickedly majestic and pleasurable story of the villains of Imperial City. WOW! Alana Melos does it again, but I didn't really expect anything less.
This book has sex, violence, major fighting action and a really good storyline. The writing is smooth and you will get hooked right away. ALL of the characters are interesting and we get to meet a few new ones in this book. Regulus aka Gerard, Nazferatu aka Naz (which is really Nosferatu but in an alternate earth called Axis) and Night Siren aka Rebekah Furst. Such a great and complex cast of characters who I am really enjoying getting to know. I am especially intrigued by Caprice's mind and what has been hidden in there.
Let's talk about my current obsession Nazferatu. Naz, the Axis version of Nos seems slightly more sadistic. This could be because Naz has a bigger part in this book then Nos did in book #1. But I do love him. He is perfectly evil and fascinated by Caprice and her dark side. The scene where Naz and Caprice are playing with their victim is intense and very cat and mouse like. Imagine the movies Freeway 1 & 2 (oldie but a goodie), American Psycho and Hostel. Mixing them together is what I imagine that Nazferatu and Caprice to be like. These two seemed to feed off of each other. The more sadistic and ruthless they acted the more lost into the perverse dark abyss they became. I loved every second of it. But I will warn you the cat and mouse scene is fucking dark and not for the faint of heart.
"Mixing death and sex excited me, rousing my hunter's instinct."
"Like me, he was a sadist, and while pleasure loops and orgasming forever might be delightful, it would never touch the pure ecstasy I felt while killing."
There are a lot of really good and divinely fucked up sex scenes. Alana Melos keeps it interesting and is constantly changing things up. The sex with Regulus is awesome and compared to sex with Naz, it's kind of feels more sweet, which it's not, but Naz is so dark and twisted. *shivers*
Now for a couple of things that I didn't really care for. I rated this 4.5 out of 5 stars only because politics bore me. BUT it was easy to follow and the politics didn't last too long. It was very brilliantly woven in with awesome fights, kinky sex, mind blowing story and all around kickassery. There was also a couple of parts where being stuck in Naz's head was boring but again, that didn't last long either. But that's it. Those are my only complaints.
There is one part in the book that made me giggle a bit. I don't think it was meant that way, but the there is a fight scene pretty close to the beginning between Caprice and a metahuman with the power to control electricity. Its a great fight scene, but there are times where all I can picture is the Emperor from Star Wars and his electric fingers. I think the gif below perfectly describes what was going through my head. Again… I think of random and weird shit sometimes. LOL!
Overall, this is a great book and a really great series. I can see this being turned into a TV show or even a movie series. In my opinion, this is the kind of stuff that people want to watch. The danger, action, complex characters, and sex is what draws people in. I didn't even really touch on the fight scenes and they are very well done. I can see every motion in my head perfectly. Anyway, I hope I didn't make this book sound too dark. It has dark moments, but it's not all that way. I recommend checking out this book and this series. I can't wait for the next one. I'm craving more from the villains of Imperial City and I can't wait to crack open Caprice's head to see what's been hiding in there.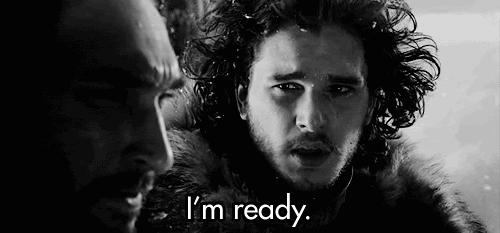 I received a copy of this book via the author in exchange for an honest review.



Amazon US 💀 Amazon UK 💀 Amazon AU 💀 Amazon CA 💀 Amazon FR


ALANA MELOS is a struggling author who found out writing erotica gave her much more freedom in writing than when she wrote the "serious" literary stuff. Since this discovery, she's endeavored to write the very best interesting, weird, plot-driven, and hot erotica she can. She sincerely hopes to just entertain people, whether they read for the plot, the weird factor, or the racy factor. Along with her loving husband, she lives with a crazy cat.

STALKING LINKS
Blog 🔥 Twitter 🔥 Google + 🔥 Goodreads 🔥 Amazon