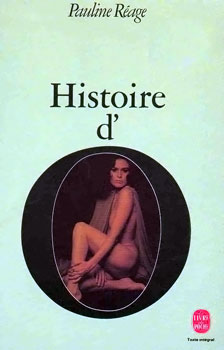 Title: The Story Of O
Author: Pauline Réage (Anne Desclos)
Published by:
Publication Date: 1955, lulu.com (March 3, 2014)
Genre: Erotica, BDSM
Pages: 210
Heat Level: 1 Flame
Overall: 1 Star
The Story of O relates the progressive willful debasement of a young and beautiful Parisian fashion photographer, O, who wants nothing more than to be a slave to her lover, René. The test is severe—sexual in method, psychological in substance… The artistic interest here has precisely to do with the use not only of erotic materials but also erotic methods, the deliberate stimulation of the reader as a part of and means to a total, authentic literary experience.

This book is hard to rate…. (Well not really)
I will start off with saying that the contents of this book are very surprising due to the time period that it was written. The only thing I liked (and liked is a stretch) about this book is that somewhere in there is a good story. If an author from this generation wrote this story it could be amazing.
However the way this book was written it was quiet boring I skimmed a lot. I kept reading because I wanted to know more like I said before I think there could be a good story in there it just was not translated well. The ending was very disappointing it just abruptly stopped. The story did not have an ending. Rumors are the ending got lost or was to demeaning of women to get publish not sure which is true in my opinion DO NOT publish a book without an ending! SERIOUSLY!!!
The book was originally written in French so translated into English it was hard to understand. It was also written in the third person. I did not like that at all. You never really found out what the characters feel. I wanted to know O's internal thoughts when she was going through painful and demeaning situations. Also what to know Rene and Sir Stephan real feeling about O is she really just this tool they use to get off or is there more to it..?
This story also lacked sex mind you there was a lot of sex and nudity just ZERO description. In the story 3 men have sex with O and it is literally 3 sentences long … then hardly any emotion from O afterwards. It definitely left you with wanting more, but sadly you never got anything but disappointment.
Unsatisfied is how I'm leavening this book.