Title: When You're Back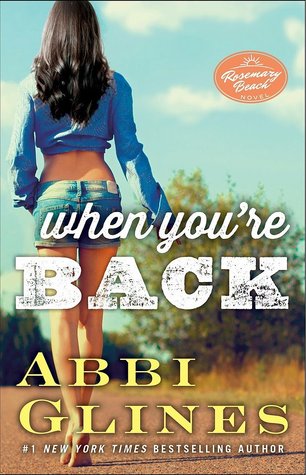 Series: Rosemary Beach #12
Author: Abbi Glines
Genre: Contemporary Romance
Pages: 288
Heat Level: 3 out of 4 flames
Overall Star Rating: 4 out of 5 stars
Reviewed by Naughty Book Snitch Kay
The future is bright for Reese Ellis. She has Mase Colt-Manning, the man of her dreams, and a family she didn't know existed until her long-lost father arrived on her doorstep in Rosemary Beach. After growing up with a cruel mother and abusive stepfather, Reese is eager to get to know the caring and charming man who wants to be a part of her life. Everything is finally falling into place.

While Reese is visiting her new family in Chicago, Mase spends time with his "cousin," Aida, who has worshipped him since childhood. Though they're unrelated by blood, Mase and Aida have been raised to think of each other as family. But when Reese returns, she can tell something isn't quite right with Aida, who clearly resents Reese and excels at manipulative little games. And though Mase is unsuspecting, Reese knows Aida doesn't love him like a cousin should…

Any of you who follows my reviews know that I'm a huge Abbi Glines fan. The two books about Mase were good but not great. This upsets me greatly since I was practically salivating to get to his story. I can't quite put my finger on what it was that made me not love it. I liked the two main characters, loved their interaction with the rest of the Rosemary Beach group, I even thought their love story was sweet. I just wanted to like it more than I did.
Mase is Kiro Manning's son from a hook up years ago. He's financially supported him but not really been a part of his life. Mase is close with his half sister, Harlow. This story focuses on Reese's meeting her real father, the beginning of her relationship with Mase, her insecurities and the numerous circumstances that try to keep Mase and Reese from being happy together.
Maybe it was because they weren't in Rosemary Beach all the time. I knew going in that that wasn't where Mase lived but still. I always enjoy the dialogue in Glines' books and the emotion she pours into them. This book had more of a suspense feel to me, maybe that was it but I love suspense. It was still a good book but not up to par with the rest of the series to me. Still a huge fan and ready for whatever she writes next.