Title: Before We Kiss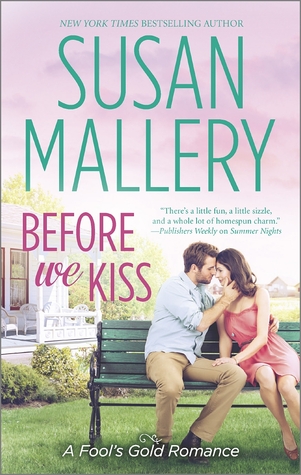 Series: Fool's Gold #14
Author: Susan Mallery
Genre: Contemporary Romance
Pages: 368 pages
Heat Level: 2 out of 4 flames
Overall Star Rating: 3 out of 5 stars
Reviewed by Naughty Book Snitch Kay
Former pro-football kicker Sam Ridge has notoriously bad luck with women—from cheaters to fame chasers. Still, the gorgeous brunette at the bar in Fool's Gold looks harmless—until she takes him home and he discovers a room devoted to securing a man, for life.

Dellina Hopkins never guessed that storing gowns from a friend's bridal boutique would chase away her first and only fling. After her parents died, she skipped her "wild youth" to raise her sisters. She doesn't want forever from Sam, but one night—all night—would've been nice.

His clean getaway gets messy when his firm hires Dellina to plan an event. As long hours lead to late nights, the two succumb to temptation again. Has Sam's luck finally changed? Or this time, will Dellina be the one to run?

Sam Ridge is a former football player who has recently relocated with his business partners to Fool's Gold. He has had issues with women in his past that have left him a little gun shy as to their intentions as a gender. After a wonderful hook up with Dellina Hopkins, an event planner in town, he stumbles into her guest room by mistake. He was looking for the bathroom and instead found a room full of wedding gowns and a how to make him propose list. He freaked and ran out of Dellina's house.
Dellina Hopkins was raised in Fool's Gold and loves the town and community. She had the responsibilities of raising her two younger sisters as a young woman when her parents died. She's trying to get her business off of the ground and landing a huge get together for Score, Sam's company, is just the break she needs. Now, if she and Sam can get over their one night stand, they both might finally have what they need.
I love this series as a whole. I wasn't crazy about the Hendrix's triplets' trilogy but otherwise, it's a great series. This one however didn't trip my trigger. I never fully connected with the lead characters. Sam's parents were the bright spot in the story for me. I laughed out loud several times. Even though I wasn't crazy about this one, I'm all over the next one because this series will make you cry, smile, laugh and want to move to Fool's Gold.