Title: Blood Kiss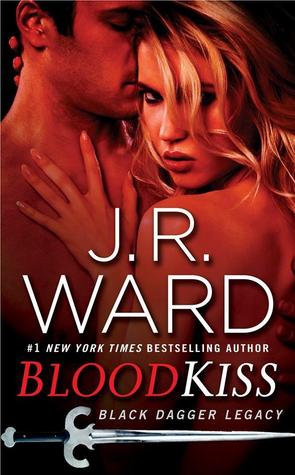 Series: Black Dagger Legacy #1
Author: J.R. Ward
Genre: Paranormal Romance
Pages: 397
Heat Level: 3 out 4 flames
Overall Star Rating: 5 out of 5 stars
Reviewed by Kay the Snitch Bitch
Paradise, blooded daughter of the king's First Advisor, is ready to break free from the restrictive life of an aristocratic female. Her strategy? Join the Black Dagger Brotherhood's training center program and learn to fight for herself, think for herself…be herself. It's a good plan, until everything goes wrong. The schooling is unfathomably difficult, the other recruits feel more like enemies than allies, and it's very clear that the Brother in charge, Butch O'Neal, a.k.a. the Dhestroyer, is having serious problems in his own life.

And that's before she falls in love with a fellow classmate. Craeg, a common civilian, is nothing her father would ever want for her, but everything she could ask for in a male. As an act of violence threatens to tear apart the entire program, and the erotic pull between them grows irresistible, Paradise is tested in ways she never anticipated—and left wondering whether she's strong enough to claim her own power…on the field, and off.

I have always loved J.R Ward's Black Dagger Brotherhood series. Well, okay not Phury's book but all of the other ones. I even loved The Shadows when most reviewers were trashing it. When I heard about a spin-off series, I was super excited. New characters? Catching up with old ones? Count me in!
I enjoyed everything about this book. I loved the training segments, the characters, the love scenes, the mystery and the pacing. It felt like the BDB in the beginning. I got sucked in totally. I couldn't wait to get time to read. I can't wait for what's up next!
If you have gotten tired of the BDB, this takes you back to how you felt in the beginning of the series and makes you remember what you fell in love with it for in the first place.