Title: Chronic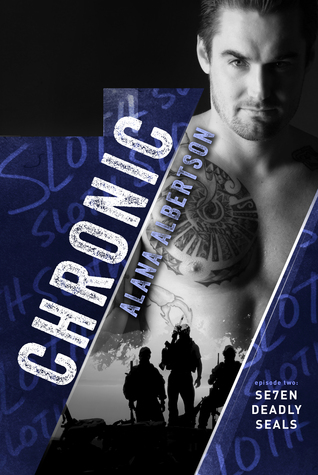 Series: Se7en Deadly SEALs #2
Author: Alana Albertson
Genre: Military Romantic Suspense
Pages: 106
Heat Level: 3 out of 4 flames
Overall Star Rating: 5 out of 5 stars
Reviewed by Kay the Snitch Bitch
7en Deadly Navy SEALs—our loyalty to each other knows no bounds

6ix months since I slammed the door on my ex Mia

5ive years I've known my best friend, Joaquín, now wasting away in jail

4our days since this stripper named Ksenya entered my life

Thre3 ways Ksenya reminds me of Mia: her lips, her scent, her smile

Two years since Mia left me during my darkest hour

One naked bombshell asleep in my bed trying to trick me

Zer0 doubt in my mind that I'm wrong

She wants to get wild? I will fulfill her every fantasy. I control the game now, not her. It will end when I say it ends. I'm a Navy SEAL, and I will be the last one standing.

Book two starts right where the first book left off. After Mia's transformation, she captures the attention of her ex. She hopes to gain information that will help clear her brother. She gets a job as a stripper where the murdered girl worked at to further her cause. When no one is the wiser of the new her being the real her, she has what she hopes is her goal in sight.
Grant, the ex, notices the similarities between Mia and the new stripper that's caught his eye. As she infiltrates the lives of he and his team, more and more things seem familiar. Is it really Mia? Can he help her if it is? As the plot thickens and twists, this series just gets better and better. I'm all in!