Title: Cold-Hearted Rake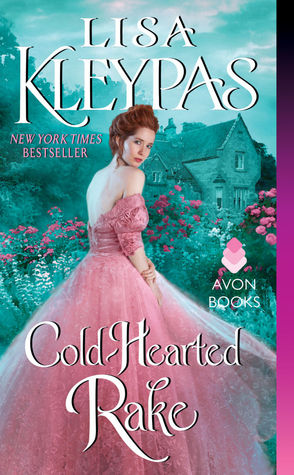 Series: The Ravenels #1
Author: Lisa Kleypas
Genre: Historical Romance
Pages: 416
Heat Level: 2 out of 4 flames
Overall Star Rating: 5 out of 5 stars
Reviewed by Kay the Snitch Bitch
A twist of fate…

Devon Ravenel, London's most wickedly charming rake, has just inherited an earldom. But his powerful new rank in society comes with unwanted responsibilities . . . and more than a few surprises. His estate is saddled with debt, and the late earl's three innocent sisters are still occupying the house . . . along with Kathleen, Lady Trenear, a beautiful young widow whose sharp wit and determination are a match for Devon's own.

A clash of wills…

Kathleen knows better than to trust a ruthless scoundrel like Devon. But the fiery attraction between them is impossible to deny—and from the first moment Devon holds her in his arms, he vows to do whatever it takes to possess her. As Kathleen finds herself yielding to his skillfully erotic seduction, only one question remains:

Can she keep from surrendering her heart to the most dangerous man she's ever known?

Everything about this one worked for me. It's been forever since I've read a five star historical romance. Like 2 years. I normally don't like a sassy heroine in Regency romance but I loved this one. She was a widow with extenuating circumstances. She still lived in her late husband's home with his 3 sisters. When the new Earl showed up, she hated him on sight.
The new Earl was never supposed to become an Earl but his cousin's death left him titled. His plans were to sell the estate and wash his hands of it. He had drinking and whoring to do after all. Then he met his cousin's widow and his views and all of his plans started changing.
From the main characters to the secondary characters, I loved them. Lisa Kleypas has great story telling ability and wonderful humor. I am loving this new series and am breathless with anticipation for the next one!