Title: Corrupt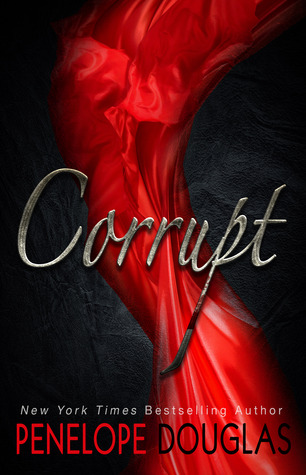 Series: No
Author: Penelope Douglas
Genre: Contemporary Romance
Pages: 460
Heat Level: 3 out of 4 flames
Overall Star Ratings: 4 out of 5 stars
Reviewed by Kay the Snitch Bitch
Erika

I was told that dreams were our heart's desires. My nightmares, however, became my obsession.

His name is Michael Crist.

My boyfriend's older brother is like that scary movie that you peek through your hand to watch. He is handsome, strong, and completely terrifying. The star of his college's basketball team and now gone pro, he's more concerned with the dirt on his shoe than me.

But I noticed him.

I saw him. I heard him. The things that he did, and the deeds that he hid…For years, I bit my nails, unable to look away.

Now, I've graduated high school and moved on to college, but I haven't stopped watching Michael. He's bad, and the dirt I've seen isn't content to stay in my head anymore.

Because he's finally noticed me.

Michael

Her name is Erika Fane, but everyone calls her Rika.

My brother's girlfriend grew up hanging around my house and is always at our dinner table. She looks down when I enter a room and stills when I am close. I can always feel the fear rolling off of her, and while I haven't had her body, I know that I have her mind. That's all I really want anyway.

Until my brother leaves for the military, and I find Rika alone at college.

In my city.

Unprotected.

The opportunity is too good to be true as well as the timing. Because you see, three years ago she put a few of my high school friends in prison, and now they're out.

We've waited. We've been patient. And now every last one of her nightmares will come true.

What an utterly confusing book this was! It was all explained but until it was, I spent most of the time wanting to throat punch all the characters. When I read the synopsis of this book a couple of months ago, I was practically salivating to get my hands on it. I wasn't disappointed.
What I liked about the book:
1.) The mystery of what happened.
2.) The suspense of the revenge plot.
What I didn't like was:
1.) The pack mentality of the males.
2.) The heroine's blindly forgiving love of the hero.
This was a good book after everything was explained but until then I kept thinking "Why all the great reviews?" The characters are psychotic assholes! You have to read it to understand. And it's DIRTY! Hot sex scenes that leave you with the fan on high to cool off your kitty. This was said to be a standalone but I really want Will and Kai's stories.