Title: Dark Skye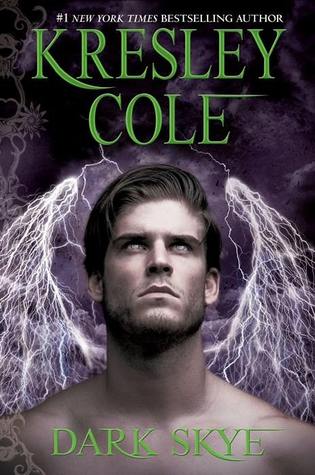 Series: Immortals After Dark #14
Author: Kresley Cole
Genre: Paranormal Romance
Pages: 432
Heat Level: 2 out of 4 flames
Overall Star Rating: 3.5 out of 5 stars
Reviewed by Naughty Book Snitch Kay
ETERNAL OBSESSION

As a boy, Thronos, prince of Skye Hall, loved Lanthe, a mischievous Sorceri girl who made him question everything about his Vrekener clan. But when the two got caught in the middle of their families' war, tragedy struck, leaving Thronos and Lanthe bitter enemies. Though centuries have passed, nothing can cool his seething need for the beautiful enchantress who scarred his body—and left an even deeper impression on his soul.

ENDLESS YEARNING

Lanthe, a once-formidable sorceress struggling to reclaim her gifts, searches for love and acceptance with all the wrong immortal suitors. But she's never forgotten Thronos, the magnificent silver-eyed boy who protected her until she was ripped from the shelter of his arms. One harrowing night changed everything between them. Now he's a notorious warlord with a blood vendetta against Lanthe, hunting her relentlessly.

CAN THE HEAT OF DESIRE BURN BRIGHTER THAN VENGEANCE?

With their families locked in conflict and battles raging all around them, will Thronos and Lanthe succumb to the brutal chaos that threatens everything they cherish? Or will the fragile bond they formed so long ago spark a passion strong enough to withstand even the darkest doubts?

In my humble opinion, Kresley Cole is a literary genius. Her stories suck you in and you can't wait to watch it all unfold. Not to mention, her humor is hysterical. Maybe a little over the top for some but hilarious none the less.
Thronos is a winged creature who fell in love with his mate as a young boy. He's also the Prince of his people. He's very family oriented and more than a little prudish. In fact, he's a virgin because his people can't climax during sex with anyone but their mate. This sacrifice wasn't a big deal to him because, as I said before, he had already found his mate. But there's a couple of catches here: his mate is not of his own people, she's a Sorceri (his peoples' greatest enemy), her family is responsible for his father's death, oh and she almost killed him in a grief filled rage.
Melanthe, the Sorceri in question, has never forgotten Thronos. Not only because she fell in love with him centuries ago, or because of the blood feud between their families but because he's hunted her relentlessly through the centuries. She has had relationships with men that have left her emotionally and mystically scarred to the point she has trust issues. She's also very family oriented.
When this novel starts, we are back at the immortal prison and they both have escaped their captors. Thronos then proceeds to capture Melanthe with the intent to take her to his realm and hold her there not only as his mate but as his captive. That's where I'm gonna leave you to finish this read for yourself.
When I read a Kresley Cole book and think of rating it, the following is my system: 1 star because it's Kresley Cole, 1 star because it's this series that I adore, 1 star because Cole is a genius, 1 star for the humor and 1 star for the sex. So, you see, her books start out at a five star read for me. This book, 1 star for Cole, one for the series, one for the humor and one for her genius. The sex was mediocre, minus one star. My biggest complaint was the fact that even though I remembered the names of the characters from previous books, I couldn't remember them. They were bit players thrown in. I know that there is a story arc here as we gear up for the Ascension but still. And why wasn't there more Valkyries? We did get some Nix, thank you Jesus, but I want to read about Vall Hall. I did enjoy seeing Furie but come on Lothaire and Nix, get your shit together and rescue Furie.