Title: Dirty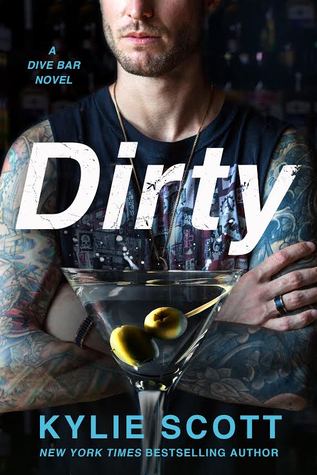 Series: Dive Bar #1
Author: Kylie Scott
Genre: Contemporary Romance
Pages: 288
Heat Level: 3 out of 4 flames
Overall Star Rating: 3 out of 5 stars
Reviewed by Kay the Snitch Bitch
The last thing Vaughan Hewson expects to find when he returns to his childhood home is a broken hearted bride in his shower, let alone the drama and chaos that comes with her.

Lydia Green doesn't know whether to burn down the church or sit and cry in a corner. Discovering the love of your life is having an affair on your wedding day is bad enough. Finding out it's with his best man is another thing all together. She narrowly escapes tying the knot and meets Vaughan only hours later.

Vaughan is the exact opposite of the picture perfect, respected businessman she thought she'd marry. This former musician-turned-bartender is rough around the edges and unsettled. But she already tried Mr. Right and discovered he's all wrong-maybe it's time to give Mr. Right Now a chance.

After all, what's wrong with getting dirty?

Being a big fan of the Stage Dive series, I was super excited to read this one. It was okay but not up to par with her other books in my opinion. It started off great. I mean, who doesn't love a runaway bride? But after that, Meh.
The heroine was a plus size girl, which I loved. You got to see her insecurities in a real feeling light. She was a very likable and I enjoyed her part of the story.
The hero was good also. An almost rock star turned bartender. He was described as sexy, but not so much for me. He was a strawberry blonde. I'm not a huge fan of red haired heroes. Just a personal preference, but it was not sexy for me. He was sweet for sure though.
I never connected with the story or secondary characters. I didn't care about them or their stories. I like Kylie Scott's books but this one fell short for me.
Book given in exchange for an honest review via the publisher and NetGalley.