Title: Dirty Rowdy Thing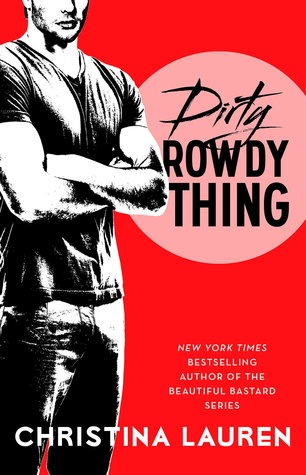 Series: Wild Seasons #2
Author: Christina Lauren
Genre: Contemporary Romance
Pages: 362
Heat Level: 4 out of 4 flames
Overall Star Rating: 3.5 out of 5 stars
Reviewed by Snitch Bitch Kay
Despite their rowdy hookups, Harlow and Finn don't even like each other… which would explain why their marriage lasted only 12 hours. He needs to be in charge and takes whatever he wants. She lives by the Want-something-done? Do-it-yourself mantra. Maybe she's too similar to the rugged fisherman – or just what he needs.

I didn't read the first book in this series but it didn't bother me too bad. I've read Beautiful Bastard and it was okay but I went ahead and gave the authors another chance. I was unsure with the premise but found out it wasn't as bad as I thought.
Finn, a fisherman from Canada and Harlow, a Hollywood brat met through friends. On a night of questionable decisions and actions in Las Vegas, these two married. 12 hours and much sex later, they decided to divorce. Finn went back to Canada and Harlow showed up a bit later for some more sex.
Fast forward a few months and these two run into each other again. There's much banter and flirting. One thing leads to another and these two start having hot sex regularly. Just when they decide to see where their relationship might go, Finn acts like an ass.
I enjoyed this book but it didn't blow me away. I did enjoy the sex and Finn's dirty mouth though.