Title: Driven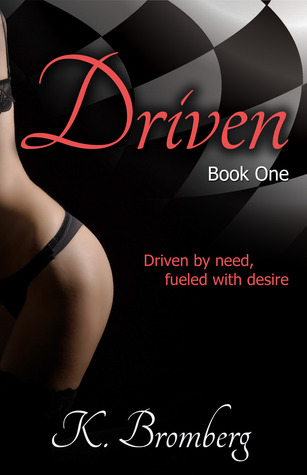 Series: Driven #1
Author: K. Bromberg
Genre: Contemporary Romance
Pages: 327
Heat Level: 3 out of 4 flames
Overall Star Rating: 3 out of 5 stars
Reviewed by Naughty Book Snitch Kay
Rylee Thomas is used to being in control. But she's about to meet the one man that just might make her enjoy losing it…

I am the exception to the rule.

In a world full of willing women, I'm a challenge to the roguish and achingly handsome Colton Donavan. A man used to getting exactly what he wants in all aspects of life. He's the reckless bad boy constantly skating that razor thin edge toward out of control, on and off of the track.

Colton crashes into my life like a tornado: sapping my control, testing my vulnerabilities beyond their limits, and unintentionally penetrating the protective wall around my healing heart. Tearing apart the world I rebuilt so carefully with structure, predictability, and discipline.

I can't give him what he wants and he can't give me what I need. But after a glimpse beneath his refined exterior into the dark secrets of his damaged soul, can I bring myself to walk away?

Our sexual chemistry is undeniable. Our individual need for complete control is irrefutable. But when our worlds collide, is the chemistry enough to bring us together or will our untold secrets and battle of wills force us apart?

Rylee is a do gooder in the best sense of the word. She helps orphaned children by having a group home of sorts that she wants to make a more permanent situation. The story starts at an auction that's also a fundraiser for awareness of the group she works for. When she goes searching for auction paddles and ends up locked in a closet, she freaks out due to a horrible tragedy in her past. Her savior is Colton, a race car driver attending said auction. Oh, he also the man who was in a liaison that she had to pass to get to the auction paddles. There's a very sexy scene right outside this closet that had me fanning myself.
Colton is intrigued by his reaction to Rylee and puts on the full court press. Since she won't agree to date the reputed man whore, he tricks her into a date. These two circle each other for a while and end up in a very sexual relationship. Both have scars from their pasts that are revealed in snippets and those snippets made me tear up.
I waited a long time to read this despite it sitting at the top of my TBR list. I wanted to love it but it ended up being just okay for me. It seems long and drawn out. The characters were frustrating for me for some reason. The sex was blistering but I had likability issues with the two main characters. Maybe it was just me because most reviews are 5 star reviews but I was left wanting it to be over with.