Title: Falling Away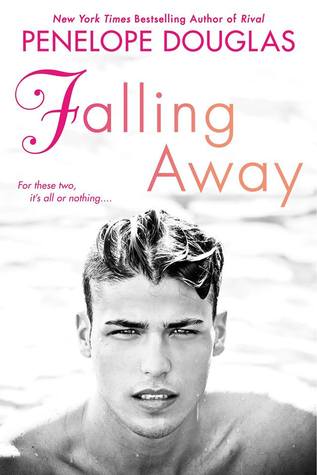 Series: Fall Away #3
Author: Penelope Douglas
Genre: New Adult Romance
Pages: 429
Heat Level: 3 out of 4 flames
Overall Star Rating: 3.5 out of 5 stars
Reviewed by Naughty Book Snitch Kay
Jaxon is the guy she's supposed to avoid.

K.C. is the girl he won't let get away….

K.C. Carter has always followed the rules—until this year, when a mistake leaves her the talk of her college campus and her carefully arranged life comes crashing to a halt. Now she's stuck in her small hometown for the summer to complete her court-ordered community service, and to make matters worse, trouble is living right next door.

Jaxon Trent is the worst kind of temptation and exactly what K.C. was supposed to stay away from in high school. But he never forgot her. She was the one girl who wouldn't give him the time of day and the only one to ever say no. Fate has brought K.C. back into his life—except what he thought was a great twist of luck turns out to be too close for comfort. As the bond between them grows, he discovers that convincing K.C. to get out from her mother's shadow is hard, but revealing the darkest parts of his soul is nearly impossible.…

Jaxon Trent has wanted K.C. Carter for a while now. I mean really wanted her. He's dark and mysterious. He's also a bit adorable. K.C. Carter has had a rough go with boys. Her first and really only boyfriend was a serial cheater. After a nasty break-up, she comes back home to do her community service. Finally, Jaxon can make his move.
I thought Jaxon was fantastic in Madoc's book, but in this book, he pissed me off almost constantly. I know he had a horrific childhood but so did K.C.. I also know that their childhoods were not the same but just a different type of hell. Jaxon was domineering, controlling, hurtful and stalkerish. All those things combined did not make him appealing at all for me.
K.C.'s story tore me apart. To be used as a substitute for your dead sister, agony. She literally became her sister! That's so fucked up. Seriously! I loved K.C. and that's saying something because I hated her in Tate's book. She truly evolved and became her own person throughout the series. I liked this series a lot but I'm not gonna read the second part of Jared and Tate. Been there, done that.