Title: Fighting Dirty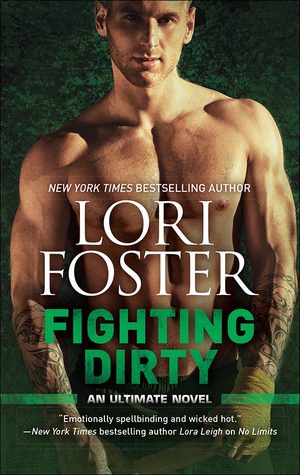 Series: Ultimate #4
Author: Lori Foster
Genre: Contemporary Romance
Pages: 384
Heat Level: 3 out of 4 flames
Overall Star Rating: 4 out of 5 stars
Reviewed by Kay the Snitch Bitch
With the life he's led and the muscles he's gained, Armie Jacobson isn't afraid of anything. Except maybe Merissa Colter's effect on him. It's not just that she's his best friend's little sister. Fact is, she deserves better. Women pursue him for one night of pleasure, and that's all he wants to offer. Until rescuing Merissa from a robbery leads to the most erotic encounter of his life.

Good girl meets bad boy. It's a story that rarely ends well. But Merissa is taking matters into her own hands. No matter how he views himself, the Armie she knows is brave, honorable and completely loyal. And as past demons and present-day danger collide, they're both about to learn what's truly worth fighting for…

I like this series and I'm sad to see it end. I really liked the first three stories but couldn't get into Stack and Vanity's book for some reason. I had no such problem with Armie and Rissy's book.
Rissy is Armie's best friend's little sister and therefore completely off limits to Armie. She's no innocent but no where near as sexually experienced as Armie. None of that stops her love or desire for him though. She knows what she wants and it's him. She doesn't care about his reputation or her brother's possible reaction.
Armie is what he is. He fights because he likes it and he's good at it. He tries to keep a low profile because of an incident in his past but fate has other plans for him. When it seems that his past threatens Rissy, he can no longer fight his feelings for her.
I liked the book. Both of the main characters were entertaining. I also liked seeing the characters from the previous books. The humor was great and the love scenes were hot. I look forward to what Lori Foster's next series has to offer.
Book given in exchange for an honest review via the publisher and NetGalley.