Title: Garrett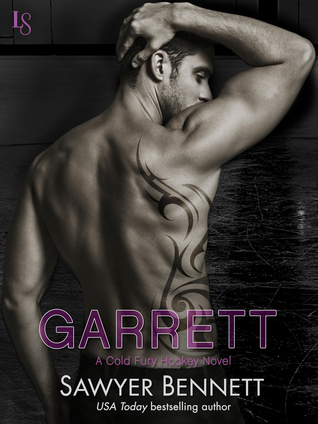 Series: Cold Fury Hockey #2
Author: Sawyer Bennett
Genre: Contemporary Romance
Pages: Unknown
Heat Level: 3 out of 4 flames
Overall Star Rating: 4 out of 5 stars
Reviewed by Naughty Book Snitch Kay
Carolina Cold Fury star Garrett Samuelson never wants to miss out on a single minute of fun. Whether he's playing hockey, hanging out with friends, or walking the red carpet with a new date on his arm, he lives every day to the fullest. When he meets Olivia Case, he sees someone who's exactly his type—confident, sexy, smart . . . his next fling. But the more he pursues her, the more Garrett shares a side of himself that other women don't normally get to see.

Olivia has been keeping a secret. While Garrett lives for the next thrill, Olivia's not sure she'll live to see the next day. She's undergoing treatment for some serious medical issues, and she doesn't have time for a relationship with no guarantees—especially one with a hot-as-sin womanizer who won't take no for an answer. But as she gets to know the real Garrett, Olivia can't help falling for him . . . hard. To reveal the truth would mean risking everything—but you can't score without taking the tough shots.

Garrett Samuelson is a hockey star with the Carolina Cold Fury. He very much enjoys the professional athlete lifestyle. He loves hanging out with his teammates, playing hockey and having sex with women. He doesn't really ever look too seriously at life. Why should he? He's a young man in his prime living the life he's always dreamed of.
Olivia Case is the cousin of Garrett's best friend's wife. When he sees her at a team BBQ, he's instantly smitten. After meeting her, he's even more smitten but he's warned off none to gently by his best friend. Olivia lives life to the fullest and she even has the bucket list to prove it. See, Olivia has cancer and has to face her own immortality. She enjoyed meeting Garrett but knows she not in the right place in her life to date or to be a booty call.
Garrett is unaware of her diagnosis and pissed off at his friends for juding his lifestyle. He likes Olivia and wants to date her. Really date her. Does he want to have sex with her? Hell yeah but he also wants more than that for the first time in his life. What happens when he finds out about Olivia's condition?
This was a very sweet read. Very emotional due to all the issues going on in this book. Watching a young woman take what she has left of her life by the horns and a former man-whore fall for the one woman he may lose. This book packs a punch that won't leave you for a while after reading it. It's smart, funny, sexy and sigh-worthy. I can't wait for the next book in this series.
Book given in exchange for an honest review by the author via NetGalley.