Title: Heart Recaptured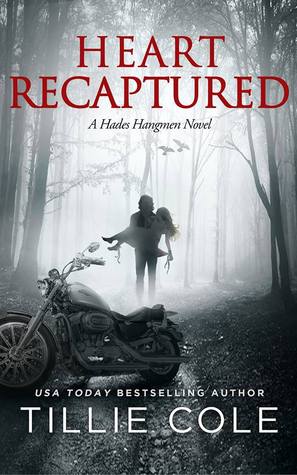 Series: Hades Hangmen #2
Author: Tillie Cole
Genre: Contemporary Romance
Pages: 503
Heat Level: 3 out of 4 flames
Overall Star Rating: 5 out of 5 stars
Reviewed by Naughty Book Snitch Kay
Even salvation can be delivered through the love of the damned…

Beauty can be a curse.

Faith can be a cage.

Only love can set you free.

A few long weeks after being reluctantly ripped from the comforting embrace of her sacred prophet's religious commune—the only life she has ever known—a terrified Delilah is thrust into a world enveloped by evil and swimming in sin.

Steadfastly devout in her faith, and retaining the deep belief that her soul is innately tarnished as a branded 'Cursed woman of Eve', Delilah is determined to find her way home to her people in The Order and away from the corrupt and damned outlaw motorcycle club—The Hades Hangmen—who hold her at their secluded compound for her protection—a 'protection' she strongly resents.

Delilah yearns to return home, convinced that only amongst her own people, and under the holy guidance of the Lord's revealed prophet, can her Satan-spawned soul be truly saved. Conditioned her entire life to believe she is a witch… a life-long temptress… the devil's whore… Delilah increasingly resents her beautiful face, her shapely body and her sensuous effect on men. But when a man of the motorcycle club—a deeply sinful yet stunningly beautiful man—is charged with her care, Delilah begins to see that this dangerous and moralless sinner from the 'outside' may offer her something she did not know could truly exist: unconditional love.

Kyler 'Ky' Willis loves his life: a daily abundance of brotherhood, liquor, the freedom of the open-road and—best of all—his pick of hot women. Raised a biker brat and now VP of the most notorious MC in the States, Ky has no shortage of club sluts warming his bed; a situation he takes full advantage of… until a certain blonde enters his life… a gorgeous pilgrim-blonde he can't get out of his head… a pilgrim-blonde he and his club recently-rescued from some backward religious cult… and a pilgrim-blonde he's been ordered to keep the hell away from and his whorish hands off.

When yet another in a lengthy line of drunken blunders forces Ky to reluctantly take charge of the pilgrim-blonde's care, he realizes that there could be more to this woman than just supermodel looks and a stacked set of tits. He begins to see that she could be the woman who could do the impossible—tame his wild ways and capture his reluctant heart.

But the unyielding bonds of Lilah's past are strong, her 'people' determined and, with a new Prophet in charge and hell bent on revenge, they are mightily reluctant to let her go…

I can't believe that I liked this book better than the first one but I did! I am a huge fan of when a manwhore finally falls in love. It makes me smile, feel giddy and just all around happy. If you like that too, then you'll love this book.
This is the story of Kyler and Delilah. If you haven't read the first book in this series, then stop and go read it. Otherwise it would be too difficult to undestand some of the things within the story. Ky is the VP of his MC and a complete manwhore. I mean seriously, a complete manwhore. He'll sleep with anything that moves. Women have always come easy to him due to his good looks and MC status. He was raised to see women as a body to fuck. Nothing more, ever.
Delilah is a woman who was rescued from a religious cult. She's now living at the MC compound and she hates it. It goes against everything she's been taught. To fully understand her hatred at being there, keep in my mind, that her commune life was all she'd ever known. She's been trying to repent for something she was never guilty of her whole life. She truly believes that she's evil incarnate because she's beautiful.
Watching these two characters fall in love was so sweet. Honestly, it was gut wrenching also. This novel is not for the faint of heart, as it deals with very explicit dark content. Rest assured, this cult is not shown in a flattering light, it's shown for exactly what it is. Hateful, perverse and disgusting. If you can make it through the above, you'll read about two broken people who find a love that's worth fighting for. Especially for a woman, who was always told she was evil but never lost her faith in God.
I'm solidly a Tillie Cole fan now. I'll follow her wherever she goes in her writing. I'm on the edge of my seat waiting for Flame and Maddie's book!