Title: Hold on Tight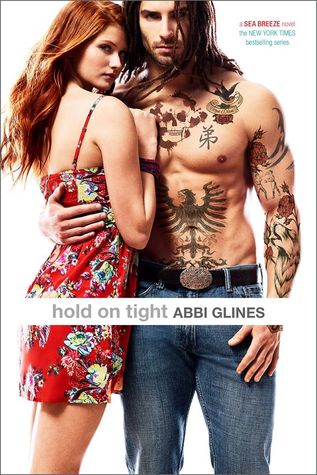 Series: Sea Breeze #8
Author: Abbi Glines
Genre: Contemporary Romance
Pages: 288
Heat Level: 3 out of 4 flames
Overall Star Rating: 5 out of 5 stars
Reviewed by Naughty Book Snitch Kay
Six years ago, Dewayne Falco's life changed. He lost someone he never expected to lose. Resigned to punish himself for something he felt he could have prevented, he goes through life without getting too close to anyone.

What he didn't expect was for the girl across the street to move back home and remind him of what they both lost: Dewayne's younger brother Dustin. However, when a miniature version of Dustin opens the door to greet him, Dewayne realizes he might not have lost everything after all.

Sienna Roy loved Dustin Falco most of her life. He was the boy next door, the high school basketball star and her best friend. But when his life was cut short, she realized he left a part of himself behind.

Now, she's back in Sea Breeze, thankful to have a home for her and Dustin's son, but not sure if she can ever forgive the people across the street who abandoned her when she needed them the most — The Falcos.

Betrayal, lies, and forbidden attraction might end Dewayne and Sienna's story before it's even begun.

Everything about the book worked for me. Abbi Glines as the author? Check. Dreamy alpha male hero? Check. Secret baby? Check. Strong but not the top heroine? Check. A story that sucks you in from page one? Check.
Dewayne Falco has wanted Sienna Roy for years. Even when she was his brother's girlfriend. He always looked after her in high school and tried to keep his younger brother in line where Sienna was concerned. After his brother's death and Sienna's disappearance, Dewayne has kept people at a distance. He's guilt ridden and broken. Over the next several years, he gluts himself with alcohol and whoring.
Sienna Roy decides it's time to come home. It's been six years since Dustin's death and she needs a stable place to raise their son, Micah. She doesn't care if the Falco family doesn't want anything to do with Micah, this is now their home. When Dewayne shows up on her porch to meet the new neighbors, all of her feelings for him rush back.
This read was so wonderful. You get a guy who thought he couldn't be healed. You also got a girl that life tried to kick the crap out of but she fought right back. You get flashbacks to a young Dewayne, Preston and Rock for fans of this series, which I enjoyed a lot. You also get humor, emotion and hot sex. What more could you possibly want?