Title: Holding Strong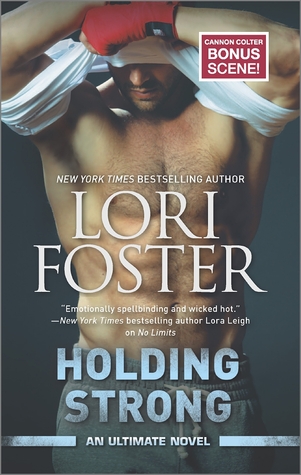 Series: Ultimate #2
Author: Lori Foster
Genre: Contemporary Romance
Pages: 480
Heat Level: 3 out of 4 flames
Overall Star Rating: 4 out of 5 stars
Reviewed by Naughty Book Snitch Kay
An up-and-coming MMA fighter wants more than just one night from a woman fleeing her past in New York Times bestselling author Lori Foster's irresistible new novel.

Heavyweight fighter Denver Lewis plays real nice, but he doesn't share. That's why he's been avoiding top-notch flirt Cherry Peyton. But a man can only resist those lush curves for so long. Their encounter surpasses all his fantasies, bringing out protective urges that Cherry's about to need more than she knows…

Denver's combination of pure muscle and unexpected tenderness has been driving Cherry wild. Yet no sooner does she get what she's been craving than old troubles show up on her doorstep. And this time, Cherry can't hide behind a carefree facade. Because the man by her side is one who'll fight like hell to keep her safe…if only she'll trust him enough to let him…

Denver Lewis is on his way to being a successful MMA star. He's signed with the biggest promotion agency and has a fight scheduled. So professionally, his life is set. Personally, not so much. He wants Cherry Peyton but feels that she's a big flirt. That's something the alpha male in him just can't handle. So he's kind to her when he's not ignoring her. None of his friends are fooled though and they give him the what for about it all the time.
Cherry Peyton wants Denver badly. She doesn't understand his treatment of her though. Cherry doesn't see her appeal and has no idea what she's doing is flirting. Cherry has a secret in her past and is still somewhat uncomfortable with the opposite sex. She knows she tired of waiting for Denver, so she makes her play. But her past comes calling and Denver is ready to help her meet it head on.
This series is so very entertaining. Hot alpha males, strong heroines, steamy sex scenes and decent suspense. Then throw in characters from her other series which makes me happy taking a trip down memory lane. My only question to Lori Foster is, where is Harley? Another great book in a great series.
ARC given in exchange for an honest review via the publisher and NetGalley.



Amazon US * Amazon UK * Barnes & Noble * iBooks
Print: Amazon US * Barnes & Noble * BAM
"Holding Strong will have you holding your breath while burning fingers quickly turn the pages."
"…a fun and sexy read. It has a touch of suspense to it as well to keep the pace of the story going along."
"The men of Foster's Ultimate series may be powerful fighters, but they are all heart, and none more so than the hero of this installment. His unwavering support for his feisty, frightened heroine redeems them both in time, but it is their searing chemistry that will hold readers' attention."
"Foster…manages to keep characters evolving throughout the course of a novel, becoming true 'heroes' by the time 'The End' rolls around."

Since first publishing in January 1996, Lori Foster has become a USA Today, Publisher's Weekly and New York Times bestselling author. Lori has published through a variety of houses, including Kensington, St. Martin's, Harlequin, Silhouette, Samhain, and Berkley/Jove. She is currently published with HQN. Lori hosts a very special annual "Reader & Author" event in West Chester, Ohio. Proceeds from the event have benefited many worthy causes, including the Hamilton County YWCA Battered Women's Shelter, the Animal Adoption Foundation, The Conductive Learning Center for children with spina bifida and cerebral palsy, and The One Way Farm, Children's Home. Each year Lori donates all proceeds from one book to charity. You can see the benefit romance books here: http://lorifoster.com/benefit-books/

Follow Lori Foster HERE:
WEBSITE ~ FACEBOOK ~ TWITTER ~ GOODREADS ~ PINTEREST ~ YOUTUBE ~ AMAZON