Title: Insider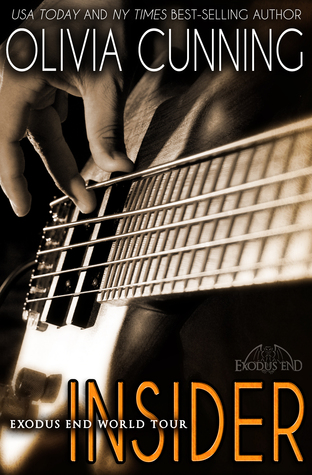 Series: Exodus End #1
Author: Olivia Cunning
Genre: Contemporary Romance
Pages: 486
Heat Level: 4 out of 4 flames
Overall Star Rating: 5 out of 5 stars
Reviewed by Naughty Book Snitch Kay
She thought she was ready to rock…
Toni Nichols put her aspirations on hold while she raised her little sister, but now she's reaching for the stars and living her dreams as the creator of a revolutionary interactive biography about the rock band Exodus End. Creating the book requires her to go on tour and immerse herself in the band's world as an insider, but can she gain the trust of four veteran superstars who've been burned by the media before? Or will her dreams crumble at her feet?

He's always ready to roll
Logan Schmidt was born an adrenaline junkie. He lives for the rush he gets from playing his bass guitar before thousands of fans. When he's not performing on stage or in the bedroom, he's looking for his next endorphin high in extreme sports. So what is it about the sweet and innocent journalist on their world tour that gets his heart pumping and captures his full attention? Is she the real deal or is she posing at being his perfect woman to get inside secrets on Exodus End?

They're both ready to experiment
Though Toni was innocent the first time she climbed the bus steps, that didn't last long once Logan set his sights on her. He's so much more worldly than she is and she's ready to learn how to please a lover and explore all the ways she can be pleased. Logan can't believe his luck. Toni's a phenomenal woman and she wants him to teach her how to rock and roll in the sack? Not exactly a burdensome task. Until she starts to get too close to his heart and takes her insider look to a place he never anticipated.

Oh, Olivia Cunning. My rock star goddess. I'm so sorry we've been apart for as long as we have been. I know, I stopped reading your Sinner series after Trey's book, but honestly, role playing and BDSM are, pardon the pun, hard limits for me. I also have to admit that I fell behind on the Sole Regret series. Trust me when I say that I have seen the error of my ways.
Welcome to the story of Toni and Logan!
Logan is the bassist for the rock band, Exodus End. He's all things rock star. Alcohol, adrenaline and women. He loves it all. He's an extreme adrenaline junkie. He'll do anything that will give him his next adrenaline rush.
Toni is a naive young woman. She's spent most of her young adulthood raising her younger sister with special needs. Finally, she has the chance to chase her dreams of doing interactive biographies for celebrities. Getting a chance to work with Exodus End is gonna give her a shot at success and proving herself to her mother.
When Logan sees Toni, he's immediately drawn to her kind, sweet innocence. Toni sees her chance at wildness. Thus begins a love and friendship that's exactly what they both need. From great banter to humor to touching emotional scenes to characters you want to cheer for to hot sex, this book has it all.
Book given in exchange for an honest review via the publisher and NetGalley.