Title: It Ain't Me, Babe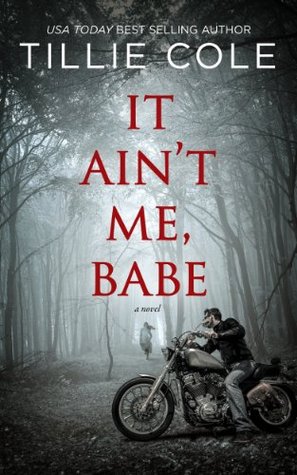 Series: Hades Hangman #1
Author: Tillie Cole
Genre: Contemporary Romance
Pages: 325
Heat Level: 3 out of 4 flames
Overall Star Rating: 4.5 out of 5 stars
Reviewed by Naughty Book Snitch Kay
Sinning never felt so good…

A fortuitous encounter.

A meeting that should never have happened.

Many years ago, two children from completely different worlds forged a connection, a fateful connection, an unbreakable bond that would change their lives forever…

Salome knows only one way to live—under Prophet David's rule. In the commune she calls home, Salome knows nothing of life beyond her strict faith, nor of life beyond the Fence—the fence that cages her, keeps her trapped in an endless cycle of misery. A life she believes she is destined to always lead, until a horrific event sets her free.

Fleeing the absolute safety of all she has ever known, Salome is thrust into the world outside, a frightening world full of uncertainty and sin; into the protective arms of a person she believed she would never see again.

River 'Styx' Nash knows one thing for certain in life—he was born and bred to wear a cut. Raised in a turbulent world of sex, Harleys, and drugs, Styx, unexpectedly has the heavy burden of the Hades Hangmen gavel thrust upon him, and all at the ripe old age of twenty-six—much to his rivals' delight.

Haunted by a crushing speech impediment, Styx quickly learns to deal with his haters. Powerful fists, an iron jaw and the skillful use of his treasured German blade has earned him a fearsome reputation as a man not to be messed with in the shadowy world of outlaw MC's. A reputation that successfully keeps most people far, far away.

Styx has one rule in life—never let anyone get too close. It's a plan that he has stuck to for years, that is, until a young woman is found injured on his lot… a woman who looks uncannily familiar, a woman who clearly does not belong in his world, yet a woman he feels reluctant to let go…

This author has been sitting on my TBR list for months. I'm a sucker for MC romance but few know how to do it right. When I was browsing my TBR list, I saw this author again, read the book's premise and thought, okay it's time. I've never read a book with this premise before, so naturally, I was excited.
This is Styx and Mae's story. It starts 15 years ago with Styx helping his MC President father at a body dump site. Styx wanders away from his father and ends up outside of a fence in the middle of who knows where. He sees a pretty little girl on the other side of the fence who is noticeably upset. He tries to talk to her but due to his extreme stutter, it's difficult. He manages to ask her name but she doesn't answer. Styx is floored by the beautiful, silent girl with the most beautiful eyes he's ever seen. Wolf eyes. The two stare at each other through the fence and end up sharing a sweet, chaste kiss. He's eleven and she's eight.
You then fast forward 15 years and you're gonna wish you could go back. Salome or Mae is on the run for her life. Running from the extreme religious ( I use that word loosely) cult that has kept her a prisoner for most of her life. After a harrowing escape, that will leave you on the edge of your seat, a very sweet love story begins.
I don't wanna say anything more about the story because it's amazing and everyone should experience it for themselves. It's the story of two people, bonded together by a fleeting moment in their youth, that find their way back to each other. They work their way through obstacles both horrifying and heinous to find a love neither of them was expecting.
Be forewarned though, there is some dark content in this book. Graphic violence, graphic language and the twisting of God's word to suit the perversions of a group of religious zealots. I realize that all religious cults are not necessarily bad, but this particular cult is disgusting. Amoral and immoral in it's beliefs and teachings.
I enjoyed this book so much so, that as soon as I finished it, I went straight to book two and devoured it in less than 24 hours. I have a group of MC authors that I've read that I consider the best at this genre. Tillie Cole didn't just walk passively up to their door and knock to be let into their group. No, she kicked the door down, strutted in, sat down and faced the other authors. Then she smirked and said, "Okay, what do you bitches have that can top that"?