Title: Jax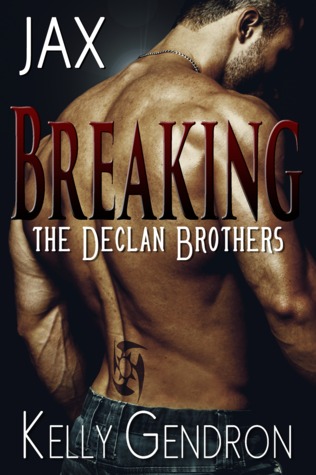 Series: Breaking the Declan Brothers #1
Author: Kelly Gendron
Genre: Contemporary Romantic Suspense
Pages: 200
Heat Level: 3 out of 4 flames
Overall Star Rating: 4 out of 5 stars
Reviewed by Naughty Book Snitch Kay
"Some boys can get rough, some don't always listen when you tell them to stop, and some boys, they're just monsters. You gotta be careful who you play with…" ~ Jax Declan

I'm a tease, always have been. In my teens, Jax Declan tried to warn me about staying away from the bad boys. The only boy I ever wanted was Jax. But, no matter how much I tried to play with him, he rejected me.

I haven't seen Jax Declan in years. A couple friends and I are going back to the Bayou for the summer. A little older now, and a bit wiser, I've decided that I'm going to find my teenage crush and I'm going to break him. This summer Jax Declan will play with me.

But the closer I get and the more I learn about the reserved, discreet, and sexy Jax Declan. Well, I'm starting to think that Jax Declan might just be one of those bad boys he tried to warn me about all those years ago.

This was my first novel by this author and I enjoyed it. It takes place in the Bayou and centers not only around a group of three friends but also around three brothers. The girls, who all live in New York, decide to go home to the Bayou for the summer which was two of the girls' home town. They all come to the decision that they are going to break the Declan Brothers.
Jax Declan is the oldest and has raised his younger brothers since their parents' death. He's more of a solitary man than Emmie is a woman. She had a crush on him years ago and still kinda does. He never took her up on what she offered because of their age difference. She's all grown up now and Jax has noticed. He can finally act on his desires, to a certain point. He is very dominant but not a Dom. His need for control has had some disturbing consequences before he got it under control. That fact has haunted throughout most of his adult life. Emmie, an admitted cock tease feels that she can handle anything he throws at her.
The thing that made me like this book so much were the hints at the following books. Will Emmie's best friend get her second chance at love with the train wreck brother? Will her virgin friend land the ultimate commitment phobic man whore? Those are the stories I can't wait for. Jax and Emmie were ok but he was a little too dominant for me.
Book given in exchange for an honest review via the publisher and NetGalley.