Title: King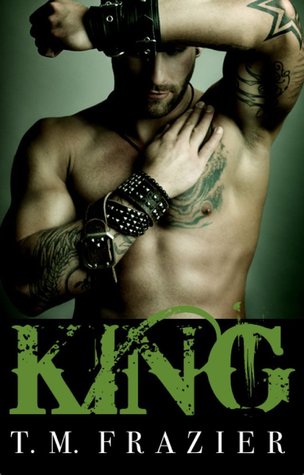 Series: King #1
Author: T.M. Frazier
Genre: Contemporary Romance
Pages: 302
Heat Level: 4 out of 4 flames
Overall Star Rating: 5 out of 5 stars
Reviewed by Naughty Book Snitch Kay
Homeless. Hungry. Desperate.

Doe has no memories of who she is or where she comes from.

A notorious career criminal just released from prison, King is someone you don't want to cross unless you're prepared to pay him back in blood, sweat, pu$$y or a combination of all three.

King's future hangs in the balance. Doe's is written in her past. When they come crashing together, they will have to learn that sometimes in order to hold on, you have to first let go.

King is a man. He's big, rough, crass, scarred inside and out and a criminal. A legit criminal. He's a murderer, a drug dealer and his sex life borders on shit I certainly would not take part in. Strangling and shit. Pain more than I'm comfortable with. You know it has to be because of his horror movie of a childhood. He has two friends, Preppy and Bear. They are his family. They've stood by him through everything. Preppy and he opened their own illegal business and they were profitable. Then King went to jail for the murder of his mother.
This story starts with his release from prison and his welcome home party. Here is where Doe comes in. She's with her hooker friend and they decide to go to the biker party. Doe is not a hooker, she's an amnesiac. She's been wandering the streets for a while now. At the party, she meets King and her girlie parts start to tingle. Her friend steals money from King, shoots Doe and escapes through the window. King keeps Doe as payment for the money that was stolen.
That gives you the start to the book. I'm telling you read it! It's a fantastic read. It's a little dark, a little sad, a lot hot and a ton engaging. It has been on my TBR for a long time and I'm so glad I finally read it. I can't say enough good things about it. It does end with a tragic event and cliffhanger but so worth the read and the sequel, Tyrant is already out! What are you waiting for? Go, get the book!