Title: Lawless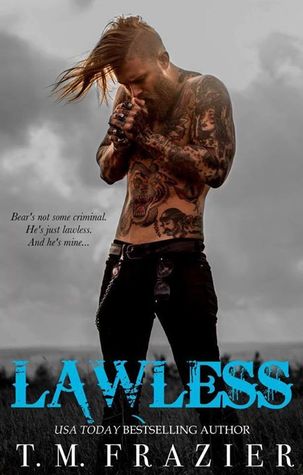 Series: King #3
Author: T.M. Frazier
Genre: Contemporary Romance
Pages: 231
Heat Level: 4 out of 4 flames
Overall Star Rating: 4 out of 5 stars
Reviewed by Kay the Snitch Bitch
Thia is prim and proper.
Bear is leather and lawless.
It will never work between them.
It's a lie they almost believe…

Bear, Bear, Bear. What a tortured hero. Maybe anti-hero. He's crass, brash, drunk a lot, high a lot and he loves whoring. I loved him from the first time I read about him.
Bear has an encounter with Thia at a gas station when Thia is just eleven. Don't panic, it's not a sexual encounter. There's a situation where Thia saved Bear's MC some possible trouble. Bear gave Thia one of his rings as a thank you. He also tells her if she ever needs anything from him to come to his MC and let him know.
Thia never forgot Bear. He had her heart from that first moment. Years later, she needs his help and goes to get it. What she finds is anything but help and sets the pace for this story.
Relentless pacing, shudder inducing scenes, graphic violence and of course, hot sex make this a great read and I'm ready for the next book. Now!