Title: Making a Play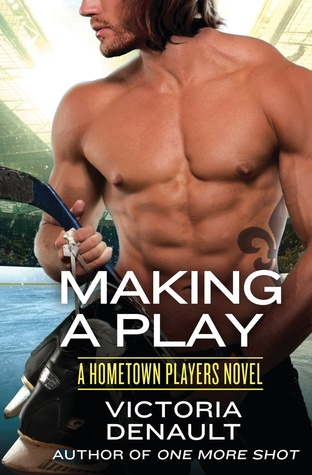 Series: Hometown Players
Author: Victoria Denault
Genre: Contemporary Romance
Pages: 288
Heat Level: 3 out of 4 flames
Overall Star Rating: 3.5 out of 5 stars
Reviewed by Naughty Book Snitch Kay
He'll do whatever it takes to win—on and off the ice.

Luc Richard is the hottest player in the NHL—and it has nothing to do with hockey. His racy relationship with his supermodel ex set the tabloids on fire but nearly put his career on ice. To avoid being traded, Luc agrees to take a break from the spotlight—and from women—and spend the off-season at home in Silver Bay, Maine. It's the perfect plan… until he reconnects with Rose.

Rose Caplan is tired of being shy, sweet, and safe. She's ready for passion, romance—and Luc. Having loved him longer than she can remember, she's finally ready to prove she's not the same innocent little girl he once knew. Off the ice Luc doesn't do games, but this new Rose makes him feel like playing a little dirty. If he's really got a shot at her heart then he's not just playing to win. He's playing for keeps.

Luc Richard is an NHL player who is in a bit of a pickle. He's sworn off of women after the break up of his last relationship. His team owner is less than thrilled with all of the shenanigans. If he doesn't get his shit together, he'll be traded and with the word out that he's trouble, not many teams are interested.
Rose Caplan is his childhood friend from his hometown. He's never seen her as anything but a friend. Luc is home for his surrogate brother's wedding. Rose has loved him and loves seeing him nut she wants him to see her as a woman. She's always wanted the fairy tale and she wants it with Luc.
This second book is as sweet as the first one. The history of these two characters is sweet and endearing. I laughed out loud a lot. Good story, good characters and good sex. All in all, another winner for this author.