Title: Marrying Winterborne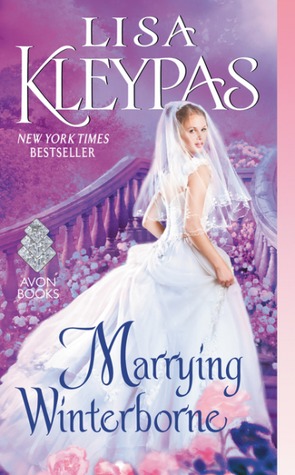 Series: The Ravenels #2
Author: Lisa Kleypas
Genre: Historical Romance
Pages: 416
Heat Level: 2 out of 4 flames
Overall Star Rating: 5 out of 5 stars
Reviewed by Kay the Snitch Bitch
A ruthless tycoon

Savage ambition has brought common-born Rhys Winterborne vast wealth and success. In business and beyond, Rhys gets exactly what he wants. And from the moment he meets the shy, aristocratic Lady Helen Ravenel, he is determined to possess her. If he must take her virtue to ensure she marries him, so much the better…

A sheltered beauty

Helen has had little contact with the glittering, cynical world of London society. Yet Rhys's determined seduction awakens an intense mutual passion. Helen's gentle upbringing belies a stubborn conviction that only she can tame her unruly husband. As Rhys's enemies conspire against them, Helen must trust him with her darkest secret. The risks are unthinkable… the reward, a lifetime of incomparable bliss. And it all begins with…

Marrying Mr. Winterborne

I've stated before that historical romance is my palate cleanser. The balm to my reading soul. I was beyond thrilled while reading this book! After I finished reading it, I sighed, looked at my husband and told him how much I loved him. He said, "Oh boy. What have you been reading?" I launched into detail about the story.
Helen is a titled lady. She's quiet, withdrawn and proper. She's a rule follower. She's everything a lady of her class should be. She doesn't want a Season. She wants Winterborne. He's a self made man. The Ton tolerates him because he has money but he's not considered as one of them. He owns a huge department store, so his wealth is substantial. Helen needs financial security and Winterborne needs Helen's status.
This was truly a great romance. A woman who knows what she wants and what she has to do to get it. A man who knows what he needs but is lucky that its the same thing that he wants. There's more to the story than that but you need to read that for yourself. I love Lisa Kleypas' writing and can't wait for her next romance.