Title: Once Pure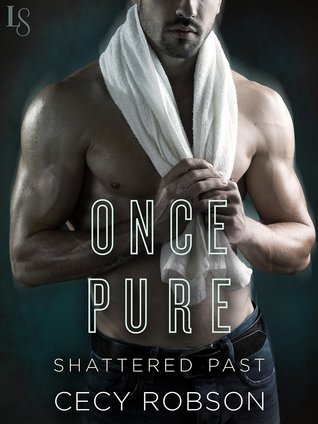 Series: Shattered Past #3
Author: Cecy Robson
Genre: Contemporary Romance
Pages: 270
Heat Level: 2 out of 4 flames
Overall Star Rating: 1 out of 5 stars
Reviewed by Naughty Book Snitch Kay
Sofia Tres Santos remembers a time before her life went sour, before her innocence was ripped away, before she began punishing herself with risky behaviors and unworthy men. Now, at twenty, she just hopes she's ready to rebuild some of what she lost. One way or another, it always comes back to her childhood friend and longtime crush, Killian O'Brien.

As strong as Killian is, Sofia has always been his one weakness. He knows Sofia has suffered and wants to ensure she's never hurt again—not like before, and definitely not under his watch. When Sofia agrees to work at his mixed martial arts gym, Killian seizes the opportunity to help and protect the sweet girl he's always cared for. And yet, as he trains Sofia to defend herself using his hard-hitting MMA techniques, he's drawn to the vulnerable beauty in ways he never expected.

As Sofia grows stronger, she also grows brave enough to open herself up to love. And along the way, she challenges everything Killian believes to be true, showing him that no matter how much he dominates in the ring, the real battle is fought in the heart.

I hate to give unfavorable reviews. I really, really do. I continue to be in awe of an author's ability to take the words in their head and put them to paper. But I reviews stories and I have to be totally honest about what works and doesn't work for me.
Killian is an MMA fighter who owns a gym in his old neighborhood. He's from a large Irish family and some of his siblings work there with him. Sofia is a rape survivor and a lifelong friend of Killian's family. These two grew up together despite the age difference. Sofia has been interested in Killian for what seems like forever. Killian has always considered Sofia his girl. Everyone seems to know this but Sofia. Since her assault, her brother has been extremely over-protective.
I really enjoyed the characters, primary and secondary. They were real feeling and quite hilarious. Killian was swoon worthy for sure and Sofia was impossible not to love. There are some very dark issues very her to overcome but she tries so hard. When she and Killian decide they're gonna give it a go, his patience with her was so sweet.
My complaint and it's a HUGE one for me personally was, at the first penetrating sex scene, it fades to black. Like off page. Sure they messed around a little before and it was hot but to fail to close the deal on page? Unforgivable. Don't give me an alpha male MMA fighter and that hot ass book cover and then have an off page sex scene. Graphic sex is uncomfortable for some people but for me, I need it dirty and graphic. I not only want to feel like I'm in the room, I want to be nose deep in that shit. When I don't get that, I'm done. If others don't mind that, then maybe this book is for you.
Book given in exchange for an honest review via the publisher and NetGalley.