Title: Reign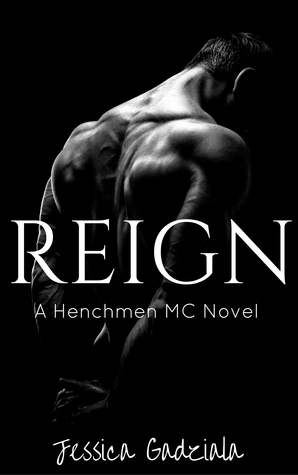 Series: The Henchman MC #1
Author: Jessica Gadziala
Genre: Contemporary Romance
Pages: 265
Heat Level: 3 out of 4 flames
Overall Star Rating: 4 out of 5 stars
Reviewed by Kay the Snitch Bitch
1 notorious 1%er
1 innocent trapped in an impossible situation
1 viscous crime lord
3 people who aren't who they appear to be
= one big (bloody) mess.

Reign is no stranger to the criminal underbelly and hard life, but when a random woman comes (literally) crashing into his life- learning things she has no business knowing, and bringing with her the weight of the city's biggest skin trader, the "hard life" starts to take on a whole new meaning.

A woman running for her life. A stormy night during a torrential downpour. An MC President on his way home. What could go wrong?
Reign, the Prez of the MC wasn't expecting to find a woman in the middle of the road, but he did. Summer knew she was lucky to be alive. On the run from the skin trader who held her hostage, beat her and threatened her with rape.
That's just the start to the mind fuckery that goes on in this novel. I liked it and am super excited to find a new MC author.