Title: Ride Steady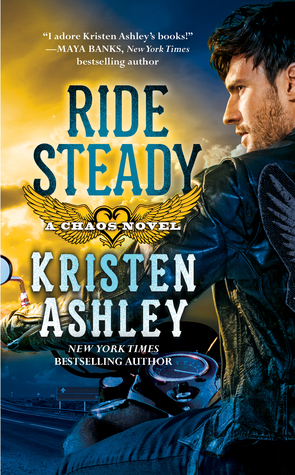 Series: Chaos #3
Author: Kristen Ashley
Genre: Contemporary Romance
Pages: 640
Heat Level: 3 out of 4 flames
Overall Star Rating: 4 out of 5 stars
Reviewed by Kay the Snitch Bitch
The ride of her life . . .
Once upon a time, Carissa Teodoro believed in happy endings. Money, marriage, motherhood: everything came easy—until she woke up to the ugly truth about her Prince Charming. Now a struggling, single mom and stranded by a flat tire, Carissa's pondering her mistakes when a vaguely familiar knight rides to her rescue on a ton of horsepower.

Climb on and hold tight . . .
In high school, Carson Steele was a bad boy loner who put Carissa on a pedestal where she stayed far beyond his reach. Today, he's the hard-bodied biker known only as Joker, and from the way Carissa's acting, it's clear she's falling fast. While catching her is irresistible, knowing what to do with her is a different story. A good girl like Carissa is the least likely fit with the Chaos Motorcycle Club. Too bad holding back is so damned hard. Now, as Joker's secrets are revealed and an outside threat endangers the club, Joker must decide whether to ride steady with Carissa—or ride away forever . . .

What can I say about a Kristen Ashley book? The woman can write. Her books are consistently good. I'm talking about her Chaos series. The only other book of hers that I read was Knight and I loved it. I tried her Colorado Mountain series and couldn't get into it. I loved Tack's book. I loved Tabby's book. I took a break for a while because of a couple of reasons. I like my MC romances a little darker and this series is kind of MC lite to me and her books are long. Sometimes too long for me. But I'm back now and I'm staying right here.
Joker was swoon worthy. Just about perfect. An alpha male who stayed alpha. He never went beta. I hate when an alpha male goes beta. He fell in love with Carissa is high school and never forgot about her. It was so sexy when he told her that it had always been her and always would be. He just treasured her and her son.
Carissa was a great heroine. She was sweet, selfless and was that way despite life punching her in the throat over and over. She was timid but spunky when she needed to be. When life handed her lemons, she did her best to make lemonade. She was a great mom and a hard worker. And she fell in love with Joker, a man that so desperately needed to be loved.
I really enjoyed this book. I'm going straight to High and Millie's book next.