Title: Rushing the Goal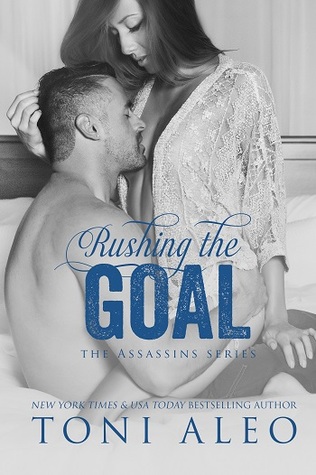 Series: Assassins #8
Author: Toni Aleo
Genre: Contemporary Romance
Pages: 513
Heat Level: 3 out of 4 flames
Overall Star Rating: 4 out of 5 stars
Reviewed by Kay the Snitch Bitch
Lucy Sinclair was no stranger to pain.

She grew up with three younger brothers, met a bad boy, got pregnant by him, married him, and then suffered through a nasty divorce from him. Pain. That was pain. To top it off, she even had to go through the heartbreaking divorce of her parents. Through it all, she survived. All she cared about was making sure her daughter was happy and taken care of. Despite an ex-husband hell-bent on ruining her life, she fought to overcome. She's gotten to the point that she's okay with being just okay. She never cared about herself because she never had the time. It was Angie and only Angie she focused on, but that all changed when Benji Paxton offered to help her daughter on the ice.

Benji knew the moment he saw Lucy, he'd never be the same. Especially when she came with the bundle of crazy that was her daughter. His heart wasn't ready for them. After years spent sobering up and finding who he was without the alcohol, he never forgot he was being punished for not appreciating the love he had when he was younger. Because of his past, he had gotten used to being alone, a recluse, but even he had to admit it was getting old. He was lonely. Hockey wasn't enough anymore. He wanted a family; he wanted his true love.

And Lucy and Angie were just that.

They were just two lost souls.

Floating through life with no purpose.

But finding each other gave them direction, a chance at a future.

And had them both Rushing the Goal to be together.

Life can change in an instant. Our decisions, good or bad, can cause us so much heartache or happiness. When you make a really shit decision that causes you to lose all you hold dear, what do you do? Enter Benji Paxton, pro hockey player. He's talented, just made the pro hockey world, has a great wife, precious baby girl and he's an alcoholic. The worst kind of alcoholic. Like with any addiction, it is always foremost in your mind. Benji learned that the hard way. He got drunk one night and his brother had to drive him and his family home. There was a car crash and everyone but Benji was killed. Benji has been sober for over a decade. He's a bit of a nerd and socially awkward with women. He gets roped into coaching a little girls' hockey team and meets a woman almost as broken as he is.
Lucy Sinclair is from a hockey family. She got pregnant young and married her baby daddy. Her ex is truly a vile human being. He constantly bullies and fucks with her just because he can. The only good thing she got out of that relationship was Angela, her daughter. Being the only sister with three brothers has made her a force to be reckoned with. She has a nasty reputation as a ball buster and she totally lives up to it. When she meets Benji, sparks fly.
Toni Aleo is such a talented author. She makes you feel something for her characters. Good or bad. I enjoyed this story of love, loss, guilt and self forgiveness a lot. I laughed, I teared up and I cheered a couple that truly deserved the happiness they found. I'm ready for the next installment.
Book given in exchange for an honest review via the publisher and NetGalley.