Title: Soulless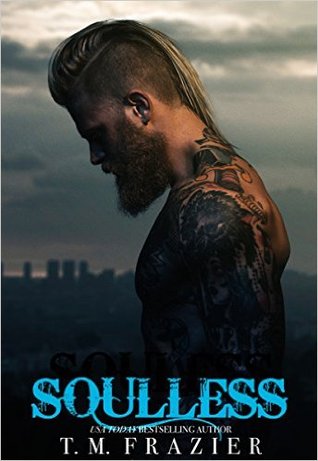 Series: King #4
Author: T.M. Frazier
Genre: Contemporary Romance
Pages: 231
Heat Level: 4 out of 4 flames
Overall Star Rating: 5 out of 5 stars
Reviewed by Kay the Snitch Bitch

Amazing! Tears of joy! I love this series! I want to snuggle with it, rub my face in it and make out with it. Seriously. There's nothing bad to say about it. Is it dark? Yes. Do you have to have a strong stomach? Sometimes. Is it suspenseful? Yes. Alpha males that never turn Beta? Yes. Heroines that never quit? Yes.
Bear was…just Bear. No explanations, no apologizes. Just Bear. Biker, brawler, bad ass. Absolute yummy goodness. The book starts with him in prison to protect Thia. Everyday is a fight for survival. Threats coming at him from every angle. His one constant? Thia. She's his everything. His reason for being. She's the only other person he's cared about besides King, Ray and Preppy.
Thia is fit to be tied. She doesn't truly understand what Bear's endgame is. She tries to be what he needs her to be and to do what he needs her to do. It's not easy because she doesn't really know anyone outside of Bear, Ray and King. She's cut off from society, heavily guarded.
This is truly a bad ass series. I count down to the release dates of the books. I can't wait to see what plot twists T.M. Frazier throws at me next. And the one at the end of this book? I burst out crying tears of joy.