Title: Souls Unfractured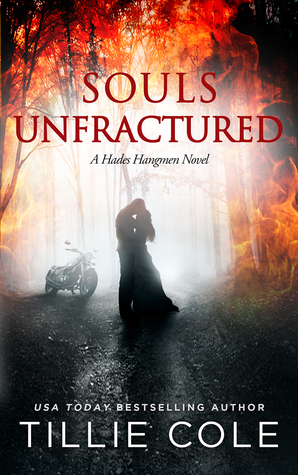 Series: Hades Hangman #3
Author: Tillie Cole
Genre: Contemporary Romantic Suspense
Pages: 462
Heat Level: 3 out of 4 flames
Overall Star Rating: 4 out of 5 stars
Reviewed by Naughty Book Snitch Kay
"For fractured souls are like magnets.
Drawn to collide into an impossible bliss…"

Labeled a 'Cursed' woman of Eve from birth, Maddie has endured nothing but pain and repression at the hands of The Order's most abusive elder, Moses. Now living with her sister in The Hangmen's secluded compound, finally, Maddie, is free. Free from the suffocating faith she no longer believes in. Free from endless years of physical and mental torment.

Just… free…

At age twenty-one, the timid and shy Maddie is content to live within the confines of her new home—safe from the outside world, safe from harm and, strangely, protected by the Hangmen's most volatile member; the heavily pierced and tattooed, Flame.

Flame.

The man who ceaselessly watches over her with his midnight dark and searing eyes. The man who protects her with a breath-taking intensity. And the man who stirs something deep within her numbed heart.

But when circumstances conspire for Flame to need HER help, Maddie bravely risks it all for the broken man who has captivated her fragile soul.

The Hangmen's most infamous member, Flame, is ruled by one thing—anger. Plagued by haunting demons from his past, an all-consuming rage, and isolated by an abhorrent hatred of being touched, Flame's days are filled with suffocating darkness, pierced only by a single ray of light—Maddie. The shy, beautiful woman he cannot purge from his thoughts. The woman he has an overwhelming need to possess…
… the only person who has ever been able to touch him.

Flame's mission in life is to protect Maddie, to keep her safe. Until a trigger from his troubled past sends him spiraling into madness, trapping him in the deepest recesses of his disturbed mind.

His Hangmen brothers fear that Flame is beyond saving.

His only hope of salvation: Maddie and her healing light.

Maddie and Flame, Maddie and Flame, where do I start?
For readers of this series, you know what a hot ass mess both of these characters are. Two so very broken people. Maddie, who has been physically, mentally and sexually abused since her young childhood. Having been rescued by the MC, she's free, at least physically. She's accepted and realized that the cult she was brutalized by was wrong. Can she ever be close with a man? She wants to and that man is Flame.
Flame has been an enigma throughout the series so far. Scary, psychotic and gruesome. He reminded me of Zsadist from The Black Dagger Brotherhood, Zarek from the Dark Hunters and Happy from Sons of Anarchy. He only wants to ensure that Maddie is safe. I was unclear why he was so vehement about her safety and her going back to church. Then I read his back story and it became all too clear.
Tillie Cole is a true genius with her ability to write such emotionally complicated stories. This was a book that left me in tears several times. I love her stories but she has her work cut out for her as she tries to redeem Rider. I can't wait to see how she does it.