Title: Sparrow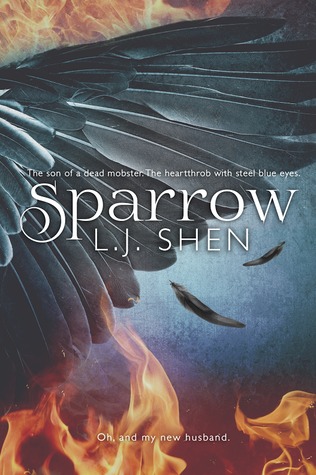 Series: None
Author: L.J. Shen
Genre: Contemporary Romance
Pages: 302
Heat Level: 4 out of 4 flames
Overall Star Rating: 4 out of 5 stars
Reviewed by Kay Book Snitch
Troy Brennan

Every Southie in Boston knows that name. The son of a dead mobster. The heart-throb with steel-blue eyes. "The Fixer" who can make or break you in this city.

Oh, and my new husband.

Sparrow Raynes

That's me. No one seemed to remember my name up until he barged into my life.
But then he caged me.
Kidnapped me.
And killed every chance I had to run away from the place where we grew up.
Put simply, Troy Brennan clipped my wings.

I have dreams, big ones, but I doubt he'll ever let me chase them. I have no idea why he decided to take me as his wife. But I do know this: pissing off this man will not do me any good. At all.

If you can't handle cheating, stay away from this one.
What does it mean when the most infamous man in town demands that you marry him? Even though he hasn't looked your way since you were a child. Why did he kidnap you and force you into marriage? Why is his friend warning you off but your parent urging you on? How does the plain girl land the most eligible bachelor? Why is your new husband demanding your fidelity while never offering you his? What secrets does he have? Why are you attracted to this monster? Will you ever get the answers you need or the security you require? Will you even live through the experience?
All of these questions get answered and then some. I really enjoyed watching Sparrow grow more and more comfortable with herself. I also loved her refusal to put up with Troy's shit. Troy really was a vile man for most of the book. His only saving grace was that he fell in love with his wife eventually. There is good suspense and hot sex in this book, if you can overlook the initial cheating.