Title: The Closer You Come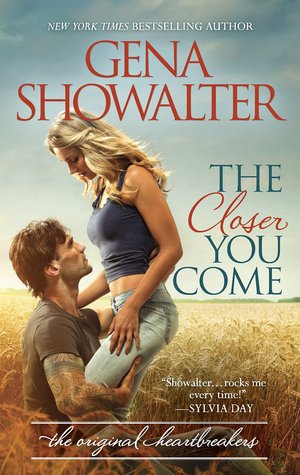 Series: The Original Heartbreakers #1
Author: Gena Showalter
Genre: Contemporary Romance
Pages: 434
Heat Level: 3 out of 4 flames
Overall Star Rating: 4 out of 5 stars
Reviewed by Naughty Book Snitch Kay
Just released from prison, Jase Hollister has a dark and twisted past. And now, he has only one goal: stay out of trouble. Strawberry Valley, Oklahoma, sounds like the perfect place for him and his two brothers-by-circumstance to settle down and live a nice, simple life. But model citizen isn't exactly this rugged bachelor's default setting—especially when it comes to a certain hot-blooded Southern beauty…

Brook Lynn Dillon has always been responsible. Not that it's done her much good. The down-on-her-luck waitress is broke, single and fun-deprived. Until Jase comes along. He is dangerous, stunningly protective, breathtakingly sexy and as tempting as sin, and the passion sizzling between them is undeniable. But can it melt her resistance? After all, the right kind of trouble might be just what they both need.

First things first, I read reviews of this book prior to reading it. Like other books, there were good and bad reviews. What surprised me was the unfavorable reviews. Especially the one saying that Gena Showalter should stick to paranormal romance. I love her Lords of the Underworld series and it's an auto read for me but I've also read her older contemporary romances and enjoyed those also. Everyone is entitled to their own opinions but honestly there was nothing related to writing style to bitch about. I agree with some of the reviews regarding the hero sleeping with the heroine's sister at the beginning of the book. There was a bit of an ick factor to it.
After that part, this was a good book. I enjoyed the small town feel, the camaraderie between the hero and his two best friends and the humor that's typical of a Showalter novel. I loved the heroine and her ability to love. And her loyalty to those that she does love. She was a strong woman. This is a story about a man and the consequences of his mistakes and the dignity he has maintained. It's about a heroine who rolls with the punches of living with a disability.
All in all, a great start to a new series by one of my favorite authors.
Book given in exchange for an honest review via the publisher and NetGalley.