Title:
The Deal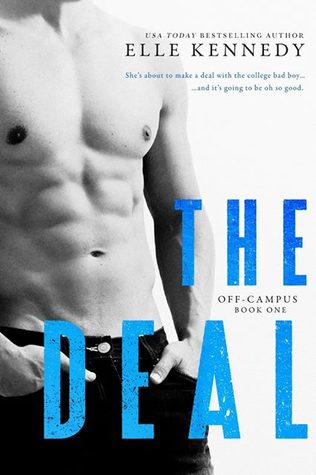 Series:
Off-Campus #1
Author:
Elle Kennedy
Genre: New Adult Romance
Pages: 358
Heat Level:
3 out of 4 flames
Overall Star Rating:
4 out of 5
stars
Reviewed by Naughty Book
Snitch
Kay
She's about to make a deal with the college bad boy…

Hannah Wells has finally found someone who turns her on. But while she might be confident in every other area of her life, she's carting around a full set of baggage when it comes to sex and seduction. If she wants to get her crush's attention, she'll have to step out of her comfort zone and make him take notice…even if it means tutoring the annoying, childish, cocky captain of the hockey team in exchange for a pretend date.

…and it's going to be oh so good.

All Garrett Graham has ever wanted is to play professional hockey after graduation, but his plummeting GPA is threatening everything he's worked so hard for. If helping a sarcastic brunette make another guy jealous will help him secure his position on the team, he's all for it. But when one unexpected kiss leads to the wildest sex of both their lives, it doesn't take long for Garrett to realize that pretend isn't going to cut it. Now he just has to convince Hannah that the man she wants looks a lot like him.

Hannah Wells wants what every girl wants, someone to love. When she thinks she's found the perfect guy to try to become romantically involved with, she only has one problem, how to get him to notice her. See, Hannah has sets her sights on the newest member of her college football team. Hannah is an attractive girl but doesn't run in the same circle as the jocks at school. She's a good student which just happens to put her in the path of another jock who desperately needs her help.
Garrett Graham is a hockey star at his college, complete with dreams of going pro, which are very likely to happen given his skill set. He's a bit over privileged, fun loving, a good student, great friend and a lover of women. He's a no strings attached kind of guy but the girls he sleeps with know that. When he gets a failing grade in one of his classes, he knows he has to do something or he'll get kicked off the hockey team. He notices Hannah got an A on her paper, so he tries everything to get her to tutor him but she rejects him.
When he offers to "date" her to get the boy of her dreams to finally notice her, Hannah reluctantly makes the deal. What happens after that is truly a treat to read about. This book is endearing, sweet, parts are heart breaking, sexy and reminded me so much of the movie Can't Buy Me Love. I enjoyed every second of this book and can't wait for the next one.