Title: The Game Plan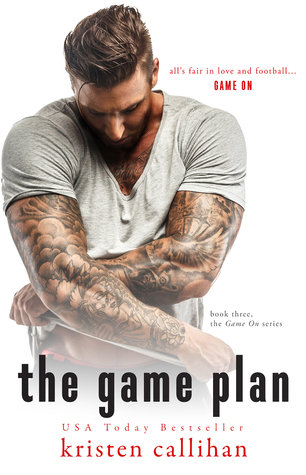 Series: Game On #3
Author: Kristen Callihan
Genre: Contemporary Romance
Pages: 323
Heat Level: 3 out of 4 flames
Overall Star Rating: 3.5 out of 5 stars
Reviewed by Kay the Snitch Bitch
A beard-related dare and one hot-as-hell kiss changes everything.

NFL center Ethan Dexter's focus has always been on playing football and little else. Except when it comes to one particular woman. The lovely Fiona Mackenzie might not care about his fame, but she's also never looked at him as anything more than one of her brother-in-law's best friend. That ends now.

Fi doesn't know what to make of Dex. The bearded, tattooed, mountain of man-muscle looks more like a biker than a football player. Rumor has it he's a virgin, but she finds that hard to believe. Because from the moment he decides to turn his quiet intensity on her she's left weak at the knees and aching to see his famous control fully unleashed.

Dex is looking for a forever girl, but they live vastly different lives in separate cities. Fi ought to guard her heart and walk away. But Dex has upped his game and is using all his considerable charm to convince Fi he's her forever man.

Game On

I had to take some time to gather my thoughts to write my review. I also talked to a very dear friend of mine who had also read the books so I could talk out my issues with it. Before people get pissed at me, wait. I liked the book. I did. I just didn't love it. It's still hard to put my finger on the reason for not enjoying it more. I'll say what I didn't like first and then what I did.
Didn't like:
Virgin heroes. BIG turn off for me personally. Eww.
He had multiple piercings. Nipple and cock. Not my preference.
He got off on pain. Not in bed though. Still, a little skeevy for me.
Heroine was a little too free with herself in the past. Not my preference.
The trademark humor was missing. I hated that.
The improbability of a professional athlete male still being a virgin at 24. I know it's not impossible but just hard for me to buy into.
Did like:
Both main characters. They were endearing in their own way.
The fact that the heroine finally found what she wanted to do with her life.
The love the hero had for the heroine. Swoon worthy.
And damn bitches the book cover! Look at the fucking book cover! Mamma like.
I wanted to like it more that I did. I still love the series and can't wait to see what's coming next.