Title: The Harder You Fall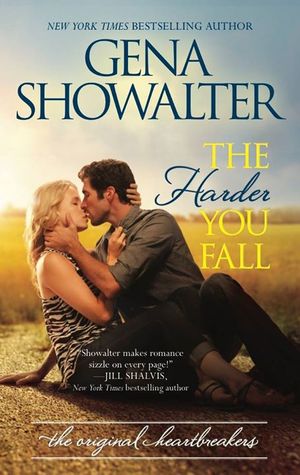 Series: The Original Heartbreakers #3
Author: Gena Showalter
Genre: Contemporary Romance
Pages: 384
Heat Level: 3 out of 4 flames
Overall Star Rating: 4 out of 5 stars
Reviewed by Kay the Snitch Bitch
Millionaire video-game creator Lincoln West has a dark and tragic past. The sought-after bachelor lives by a rigid schedule and a single rule—one relationship per year, lasting no more than two months. No exceptions. He moved to small town Strawberry Valley, Oklahoma, with his brothers-by-circumstance hoping to escape the worst of his memories—until a brash beauty dredges up long-buried emotions.

A reformed party girl, Jessie Kay Dillon is determined to walk the straight and narrow. But her love-hate sizzle with West is just too irresistible. They can't be near each other without tearing off their clothes, but the last thing she needs is to be his next two-month dump. Can she be the one exception? Because as any former girl-gone-wild knows: rules are made to be broken.

Lincoln West is a screwed up man. A sexy, video game nerd also but still screwed up. He had a horrible childhood and his teenage years weren't great either. Events shape our lives and West is no exception. He lost his first love after a string of horrific events, leaving him an addict of drugs and alcohol, To punish himself, he only has one relationship a year and it can only last 2 months. The problem is that the woman he wants just realized that she deserves better.
Jessie Kay Dillon was the town bad girl. Kind of a slut. I'm not slut shaming her but she was very sexually promiscuous. She is determined to be a better person, no matter what. She's now responsible, loving and refuses to have sex. She wants the love her parents had. To be someone's everything. She wants that with the elusive West. She knows it won't be easy but she's ready to fight for it.
I loved this story. Great characters, great humor and it was hawt. I love this series and can't wait to see what Showalter has planned next. Please let it be a story for Daniel!