Title: The Score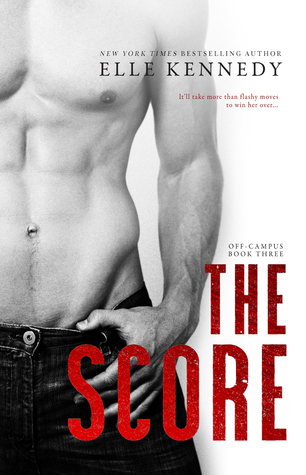 Series: Off Campus #3
Author: Elle Kennedy
Genre: Contemporary Romance
Pages: 361
Heat Level: 4 out of 4 flames
Overall Star Rating: 4.5 out of 5 stars
Reviewed by Kay the Snitch Bitch
He knows how to score, on and off the ice

Allie Hayes is in crisis mode. With graduation looming, she still doesn't have the first clue about what she's going to do after college. To make matters worse, she's nursing a broken heart thanks to the end of her longtime relationship. Wild rebound sex is definitely not the solution to her problems, but gorgeous hockey star Dean Di-Laurentis is impossible to resist. Just once, though, because even if her future is uncertain, it sure as heck won't include the king of one-night stands.

It'll take more than flashy moves to win her over

Dean always gets what he wants. Girls, grades, girls, recognition, girls…he's a ladies man, all right, and he's yet to meet a woman who's immune to his charms. Until Allie. For one night, the feisty blonde rocked his entire world—and now she wants to be friends? Nope. It's not over until he says it's over. Dean is in full-on pursuit, but when life-rocking changes strike, he starts to wonder if maybe it's time to stop focusing on scoring…and shoot for love.

I was so excited to read Dean's book! Then I listened to a friend say there was an ick factor to it for her. Then I read a couple of reviews that were less than stellar. I stupidly put off reading it. I knew better but I put it off anyway.
The biggest manwhore at Briar College and a girl fresh off a long term relationship break up. This has rebound written all over it. Dean wears his whoring badge with pride. He loves women. A lot of women. Why not? He's single, good looking, built, an athlete and rich.
Allie is a relationship type of girl. She doesn't do one night stands. Ever. Until she does. With Dean, the campus pussy hound. She loved every minute of it but now she's ashamed. Dean, on the other hand, doesn't sleep with the same girl twice. But he wants another round with Allie. Badly. Problem with that is that Allie turns him down. What's the guy who never gets turned supposed to do?
I enjoyed every second of reading this book. There was more emotion than I thought there'd be. I teared up a couple of times. I now can't wait for Tucker's book!