Title: The Shadows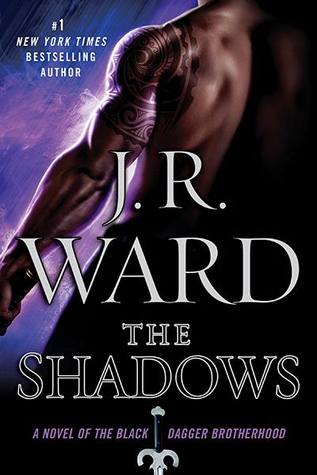 Series: Black Dagger Brotherhood #13
Author: J.R Ward
Genre: Paranormal Romance
Pages: 572
Heat Level: 3 out of 4 flames
Overall Star Rating: 4 out of 5 stars
Reviewed by Naughty Book Snitch Kay
Two brothers bound by more than blood fight to change a brutal destiny in the heart-wrenching new novel of the Black Dagger Brotherhood by #1 New York Times bestselling author J. R. Ward.

Trez "Latimer" doesn't really exist. And not just because the identity was created so that a Shadow could function in the underbelly of the human world. Sold by his parents to the Queen of the S'Hsibe as a child, Trez escaped the Territory and has been a pimp and an enforcer in Caldwell, NY for years- all the while on the run from a destiny of sexual servitude. He's never had anyone he could totally rely on… except for his brother, iAm.

iAm's sole goal has always been to keep his brother from self-destructing- and he knows he's failed. It's not until the Chosen Serena enters Trez's life that the male begins to turn things around… but by then it's too late. The pledge to mate the Queen's daughter comes due and there is nowhere to run, nowhere to hide, and no negotiating.

Trapped between his heart and a fate he never volunteered for, Trez must decide whether to endanger himself and others- or forever leave behind the female he's in love with. But then an unimaginable tragedy strikes and changes everything. Staring out over an emotional abyss, Trez must find a reason to go on or risk losing himself and his soul forever. And iAm, in the name of brotherly love, is faced with making the ultimate sacrifice.

Be forewarned: there are spoilers below.
I read a lot of reviews before I started this book. I was shocked at the negative reviews, threats that people were done with the series and that Ward had broken their trust with this novel. To say I apprehensive to read it was an understatement. After finishing it, I see how people could feel the ways I mentioned above. Personal opinion is something everyone is entitled to and important in book reviewing. For me, this book wasn't that bad.
Easy, people! Let me explain my views by breaking down the multiple storylines going on in the series.
Trez and Selena:
What a beautiful but tragic love story. I loved Selena and while I like the rest of the Shellans, I don't love any of them but Beth, Mary and now Selena. I may understand the being upset over Selena's death but we as readers saw this coming from a mile away. I knew this a went into the story willingly. I'm not sorry I did either. It was wonderful and touching to watch these two characters fall in love even knowing the end result.
Iam and the princess:
I'm okay with their story. It didn't get a whole lot of page time but that was fine with me. He deserved an HEA also, especially after cleaning up after Trez for centuries.
Xcor and Layla:
What a hot ass mess! Xcor was a douche through most of the book. He needs to accept that Layla is the one for him and quit pushing her away. Nut up! He has put her in a terrible position. She feels horrible about her deceit of the Brotherhood.
Rhage and Mary:                                                                      I'm assuming that because the next book is theirs, that was reason for the amount of page time they got in this book. I love Rhage and Mary. Theirs is my favorite book in the series and I want them to get a baby. From what I read here, I can see that happening. Fingers crossed.
Spinoff series:                                                                         I'm very interested and can't wait. The prospect of seeing more of the brothers appeals to me greatly.
I have three HUGE complaints with the book. First and foremost, I'm pissed that Selena died. Ward does seem to pick and choose which Shellans get to live or die. That is her right as the author but it sucks. Next, I felt cheated that I didn't get to read about the reactions of Trez's group. Trez, Iam, Rhev and Xhex. they were a family long before their adoption by the Brotherhood or mated into it. Thirdly, where the hell is Murdher?
So in closing, I enjoyed several aspects of this story. I'm fully invested in this series. If people don't want to read anymore, okay, then don't read. For me, it was a good read and I'm looking forward to the next book in the series.